Used in control boxes for the heater and pump circuits.
In electronics and electrical engineering a fuse, short for 'fusible link', is a type of overcurrent protection device. Its essential component is a metal wire or strip that melts when too much current flows. When the metal strip melts, it opens the circuit of which it's a part, and so protects the circuit from excessive current.
Trouble shooting must be performed to determine the cause of the tripping.
Diagnostic Panel
Set your DMM on the Ohms scale and perform a continuity test.
No continuity is an open circuit and is defective. Determine the cause of the over current condition and retest.

71618 Fuse 25 Amp is for the following models:
| | | |
| --- | --- | --- |
| Make | Model | Date Range |
| Hot Spot | RLX | 1999-2002 |
| Hot Spot | SLX | 1999-2002 |
| Hot Spot | TX | 2011-2012 |
| Hot Spot | Mallorca | 2003-2009 |
| Hot Spot | Sorrento | 2003-2009 |
| Hot Spot | SLXtra | 2001-2002 |
| Hot Spot | Tobago | 2003-2005 |
| Hot Spot | Tobago | 2006-2009 |
| Hot Spot | Trinidad | 2003-2005 |
| Hot Spot | Trinidad | 2006-2009 |
| Hot Spot | RE | 1999-2002 |
| Hot Spot | SE | 1999-2000 |
| Solana | SX | 2006-2010 |
| Solana | TX | 2006-2010 |
| Solana | RX | 2006-2009 |
| Caldera | Palomar | 2004-2005 |
| Caldera | Cumberland | 2002-2009 |
| Caldera | Olympia | 2002-2009 |
| Caldera | Cascade | 2002-2003 |
| Caldera | San Gabriel | 2008-2009 |
| Caldera | Oasis | 2002-2007 |
Specifications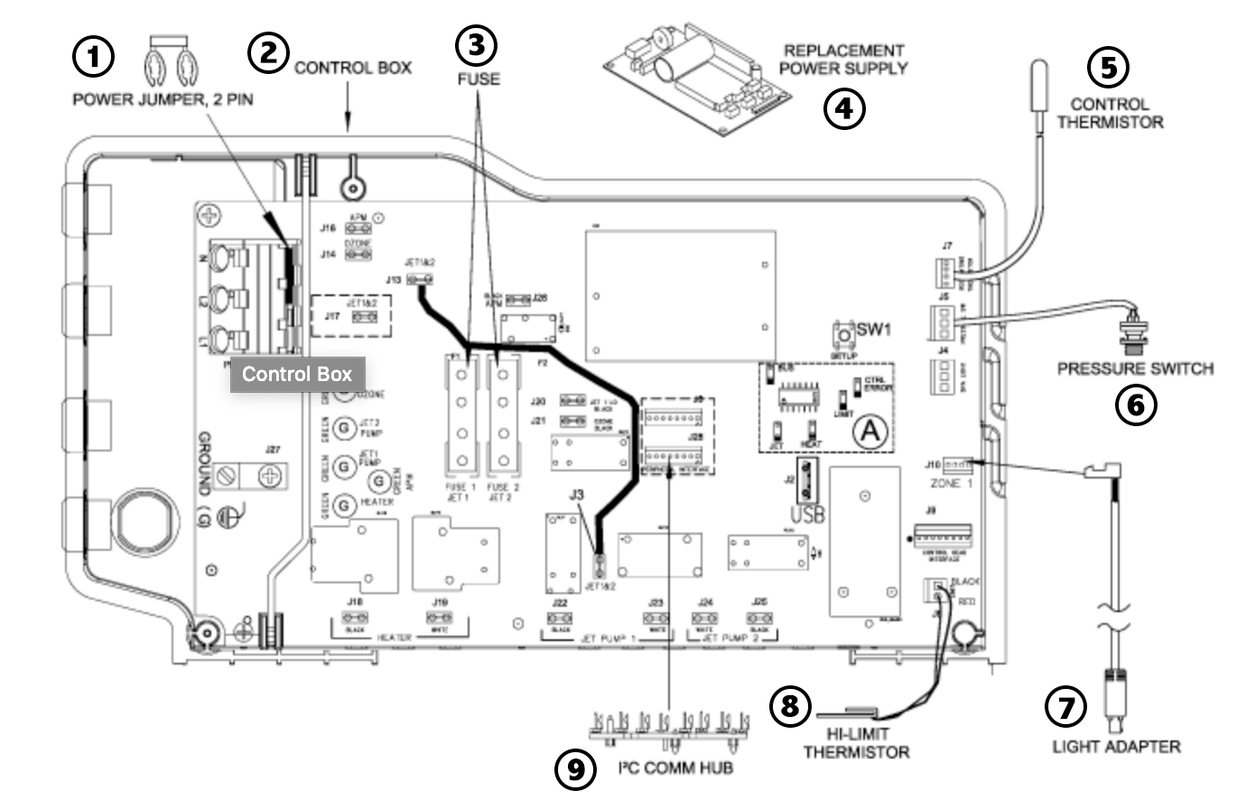 | | | |
| --- | --- | --- |
| Item | Description | Part # |
| 1 | POWER JUMPER,2 PIN,15MM,HAWK | 1306501 |
| 2 | CONTROL BOX, VACANZA HAWK 60hz | 76856 |
| 3 | FUSE, 25A 300V | 71618 |
| 4 | POWER SUPPLY, REPLACEMENT HAWK 12W | 78842 |
| 5 | THERMISTOR, CONTROL BULLET | 72493 |
| 6 | PRESSURE SWITCH, CEDRIC-HAWK | 73995 |
| 7 | LIGHT HARNESS, EAGLE/HAWK BOX | 76860 |
| 8 | THERMISTOR, HI LIMIT HSVZ | 73992 |
| 9 | I2C COMM, 4-PORT | 72742 |
| | | |
| --- | --- | --- |
| Item | Description | Part # |
| 1 | Control Box | 76840 |
| 2 | Kit Control | 76843 |
| 3 | Fuse 25A/ SC Time Delay | 71618 |
| 4 | Control Thermistor | 72493 |
| 5 | Split Nut Union 2" | 33761 |
| 6 | Heater Assy | 73994 |
| 7 | Pressure Switch | 73995 |
| 8 | Hi-Limit Thermistor | 73992 |
| 9 | Tailpiece Heater | 73905 |
| 10 | O-Ring Tail Piece | 34447 |
| | | |
| --- | --- | --- |
| Item | Description | Part # |
| 1 | GFCI 15AMP In-Line 125V | 37870 |
| 2 | Light Receptacle | 71612 |
| 3 | Control Box | 72469 |
| 4 | Thermostor Control | 71578 |
| 5 | Pressure Switch | 71586 |
| 6 | Heater Assy | 72651 |
| 7 | Split Nut Union 2" | 33761 |
| * | Fuse 25A/300V SC Time Delay | 71618 |
| * | Fuse 2A 250V 3AG Slo-Blo | 34934 |
| * | Fuse 750 mA/250V 5 X 20MM Fast-Blo | 0965201 |
| * | Tailpiece Heater | 70905 |
| * | O-Ring Tail Piece | 34447 |
| | | |
| --- | --- | --- |
| Item | Description | Part # |
| 1a | GFCI W/Cover For 115V System 20 AMP | 70922 |
| 1b | Cord GFCI For 115V System | 20120 |
| * | Breaker GFCI Subpanel Box For 230V System | 38661 |
| 2 | Light Receptacle | 71612 |
| 3 | Control Box | 72469 |
| 4 | Thermostor Control | 71578 |
| 5 | Pressure Switch | 71586 |
| 6 | Heater Assy | 72651 |
| 7 | Split Nut Union 2" | 33761 |
| * | Fuse 25A/300V SC Time Delay | 71618 |
| * | Fuse 2A 250V 3AG Slo-Blo | 34934 |
| * | Fuse 750 mA/250V 5 X 20MM Fast-Blo | 0965201 |
| * | Tailpiece Heater | 70905 |
| * | O-Ring Tail Piece | 34447 |
| | | |
| --- | --- | --- |
| Item | Description | Part # |
| 1 | Control Box HS Hawk DOM 12 | 76840 |
| 2 | Control Panel HS Hawk CG 12 | 76843 |
| 3 | Fuse 25A/300V SC Time Delay | 71618 |
| 4 | Control Thermistor | 72493 |
| 5 | Pressure Switch | 73995 |
| 6 | Light Adaptor Eagle/Hawk | 76860 |
| 7 | Hi-Limit Thermistor | 73992 |
| 8 | Kit 12C Comm Hub 8 Port | 74150 |
| 9 | Power Jumper 2 Pin | 39192 |
| | | |
| --- | --- | --- |
| Item | Decsription | Part # |
| 1 | GFCI & Cord 90 Degree 15 ft | 37870 |
| 2 | Control Box | 71584 |
| 3 | Light Receptacle | 71612 |
| 4 | Thermistor Control | 71578 |
| 5 | Pressure Switch | 71586 |
| 6 | Heater Assy | 71580 |
| 7 | Split Nut Union 2" | 33761 |
| * | Control Head | 73582 |
| * | Control Head (Taupe) | 71898 |
| * | Control Head (Blue/Grey) | 72028 |
| * | Receptacle Cover (optional) | 71591 |
| * | F2 Fuse 25 AMP 300V | 71618 |
| * | F3 Fuse 2 AMP 250V | 34934 |
| | | |
| --- | --- | --- |
| Item | Description | Part # |
| 1 | 15 Amp/ 115v GFCI w/Cover | 37870 |
| 2 | Control Box | Use 76840 |
| 3 | Fuse 25A/300V SC Time Delay | 71618 |
| 4 | Control Thermistor | 72493 |
| 5 | Split Nut Union 2" | 33761 |
| 6 | Heater Assy | 73994 |
| 7 | Presssure Switch | 73995 |
| 8 | Hi-Limt Thermistor | 73992 |
| * | Tail Piece Heater | 70905 |
| * | O-Ring Tail Piece | 34447 |
* Non-Illistrated Part