Light Adapter, Eagle Hawk
This part is a replacement light adapter for Hawk control boxes for select Hot Spring hot tub models. The adaptor connects the lighting system to the control box of the spa.
Required with part #76843 for installation. Compatible with a variety of the 1997 to current Hot Spring Highlife, Hot Spot, Limelight, and Tiger River spa models.
*Check specs section for full list of compatible models and years.
Specifications
---
| | | |
| --- | --- | --- |
| Make | Model | Date Range |
| Hot Spring | Grandee | 2013-Current |
| Hot Spring | Envoy | 2013-Current |
| Hot Spring | Vanguard | 2013-Current |
| Hot Spring | Grandee NXT | 2014-Current |
| Hot Spring | Envoy NXT | 2014-Current |
| Hot Spring | Jetsetter NXT | 2014-Current |
| Hot Spring | Jetsetter | 2013-Current |
| Hot Spring | Prodigy | 2013-Current |
| Hot Spring | Sovereign | 2013-Current |
| Hot Spring | Aria | 2013-Current |
| Caldera | Tahitian | 2013-Current |
| Caldera | Niagara | 2013-Current |
| Caldera | Geneva | 2013-Current |
| Caldera | Cantabria | 2013-Current |
| Limelight | Bolt | 2013-Current |
| Limelight | Pulse | 2013-Current |
| Limelight | Gleam | 2013-Current |
| Limelight | Flair | 2013-Current |
| Limelight | Glow | 2013-Current |
---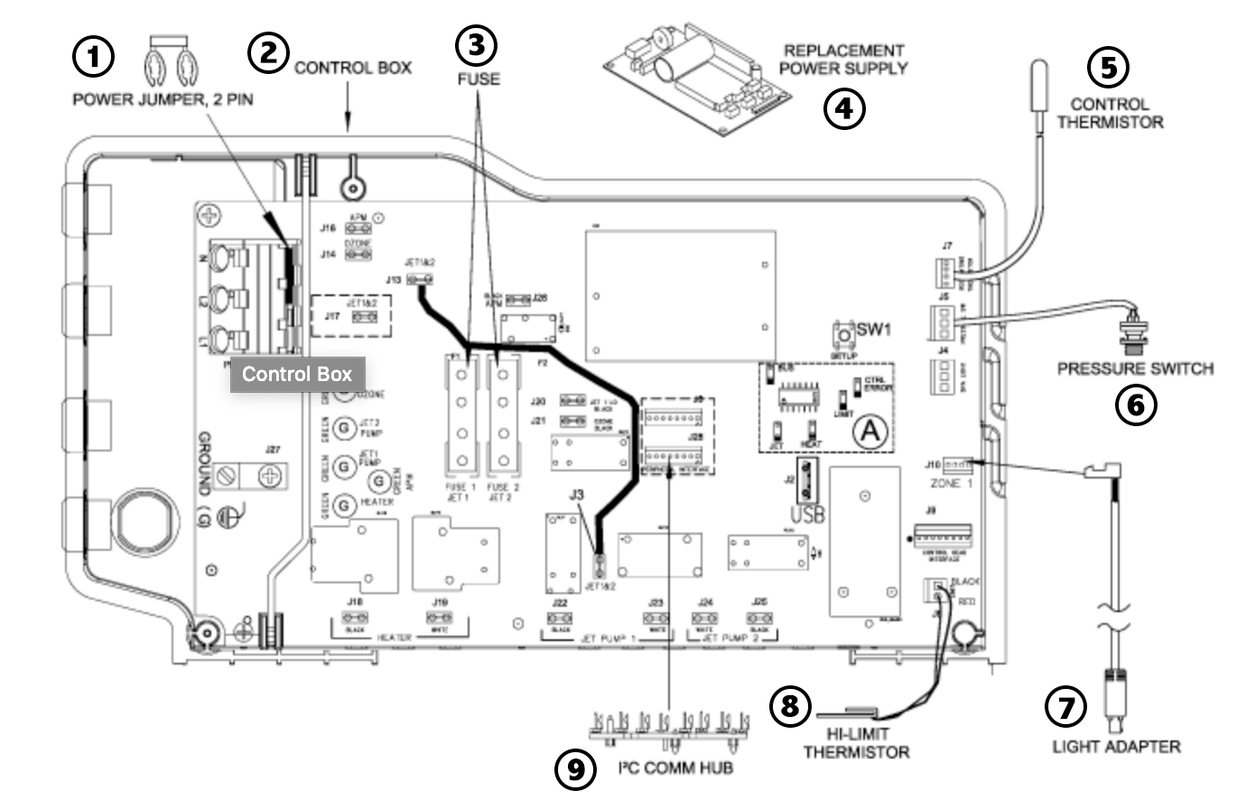 | | | |
| --- | --- | --- |
| Item | Description | Part # |
| 1 | POWER JUMPER,2 PIN,15MM,HAWK | 1306501 |
| 2 | CONTROL BOX, VACANZA HAWK 60hz | 76856 |
| 3 | FUSE, 25A 300V | 71618 |
| 4 | POWER SUPPLY, REPLACEMENT HAWK 12W | 78842 |
| 5 | THERMISTOR, CONTROL BULLET | 72493 |
| 6 | PRESSURE SWITCH, CEDRIC-HAWK | 73995 |
| 7 | LIGHT HARNESS, EAGLE/HAWK BOX | 76860 |
| 8 | THERMISTOR, HI LIMIT HSVZ | 73992 |
| 9 | I2C COMM, 4-PORT | 72742 |
| | | |
| --- | --- | --- |
| Item | Description | Part # |
| 1 | Control Box HS Hawk DOM 12 | 76840 |
| 2 | Control Panel HS Hawk CG 12 | 76843 |
| 3 | Fuse 25A/300V SC Time Delay | 71618 |
| 4 | Control Thermistor | 72493 |
| 5 | Pressure Switch | 73995 |
| 6 | Light Adaptor Eagle/Hawk | 76860 |
| 7 | Hi-Limit Thermistor | 73992 |
| 8 | Kit 12C Comm Hub 8 Port | 74150 |
| 9 | Power Jumper 2 Pin | 39192 |
| | | |
| --- | --- | --- |
| Item  | Description  | Part # |
| 1 | Control Box Cal Eagle Dom 12  | 76838 |
| 2 | Control panel, cal eagle 12 | 76846 |
| 3 | Plug, hole 0.875" | 36043 |
| 4 | Bushing, strain releif 3/8" | 30099 |
| 5a | Kit, pump cord 14/4 2spd strs | 72461 |
| 5b | Kit, pump cord 14/3 1spd strs | 72462/na |
| 6 | strain releif, 3/8" 7k-2 | 30098 |
| 7 | Cord, circ pump | 71434 |
| 8 | Ozone receptacle | 72474/na |
| 9 | Plug, hole, 1.093 | 1316901/na |
| 10 | Thermistor, hi-limit | 72492 |
| 11 | Thermistor, control | 72493 |
| 12 | Fuse, 2a 250v | 302556/na |
| 13 | Kit, l2C comm hub, 8 port | 74150 |
| 14 | Power jumper, 2 pin | 39192 |
| 15 | Power jumper, 3 pin | 39193 |
| 16 | Kit, heater relay brd eagle | 76858/na |
| 17 | Light adapter, eagle/hawk | 76860 |
| 18 | Pressure switch bypass jumper | 72768 |
| 19 | Clamp romex 3/4 | 30105 |