High Limit Sensor
This part is a replacement high limit sensor for select Caldera hot tub models. Sensor is made to turn off the spa if the water is at an unsafe temperature.
Designed to protect users in the hot tub. Compatible with 2006 to current Caldera, Hot Spot, and Solana spa models.
*Check specs section for full list of compatible models and years.
Specifications
---
| | | |
| --- | --- | --- |
| Make | Model | Date Range |
| Hot Spot | Relay | 2010-Current |
| Hot Spot | Relay | 2013-Current |
| Hot Spot | Rhythm | 2010-Current |
| Hot Spot | Tempo | 2010-Current |
| Hot Spot | SX | 2011-Current |
| Hot Spot | TX | 2011-Current |
| Hot Spot | Mallorca | 2006-2009 |
| Hot Spot | Sorrento | 2006-2009 |
| Hot Spot | La Palma | 2008-2009 |
| Hot Spot | Tobago | 2006-2009 |
| Hot Spot | Trinidad | 2006-2009 |
| Solana | SX | 2006-2010 |
| Solana | TX | 2006-2010 |
| Solana | RX | 2006-2009 |
| Caldera | Palatino | 2010-Current |
| Caldera | Marino | 2010-Current |
| Caldera | Vanto | 2011-Current |
| Caldera | Aventine | 2006-2015 |
| Caldera | Cumberland | 2006-2009 |
| Caldera | Olympia | 2006-2009 |
| Caldera | Tarino | 2013-Current |
| Caldera | C 30 | 2006-2009 |
| Caldera | San Gabriel | 2008-2009 |
| Caldera | Oasis | 2006-2009 |
| Caldera | C 45 | 2006-2009 |
---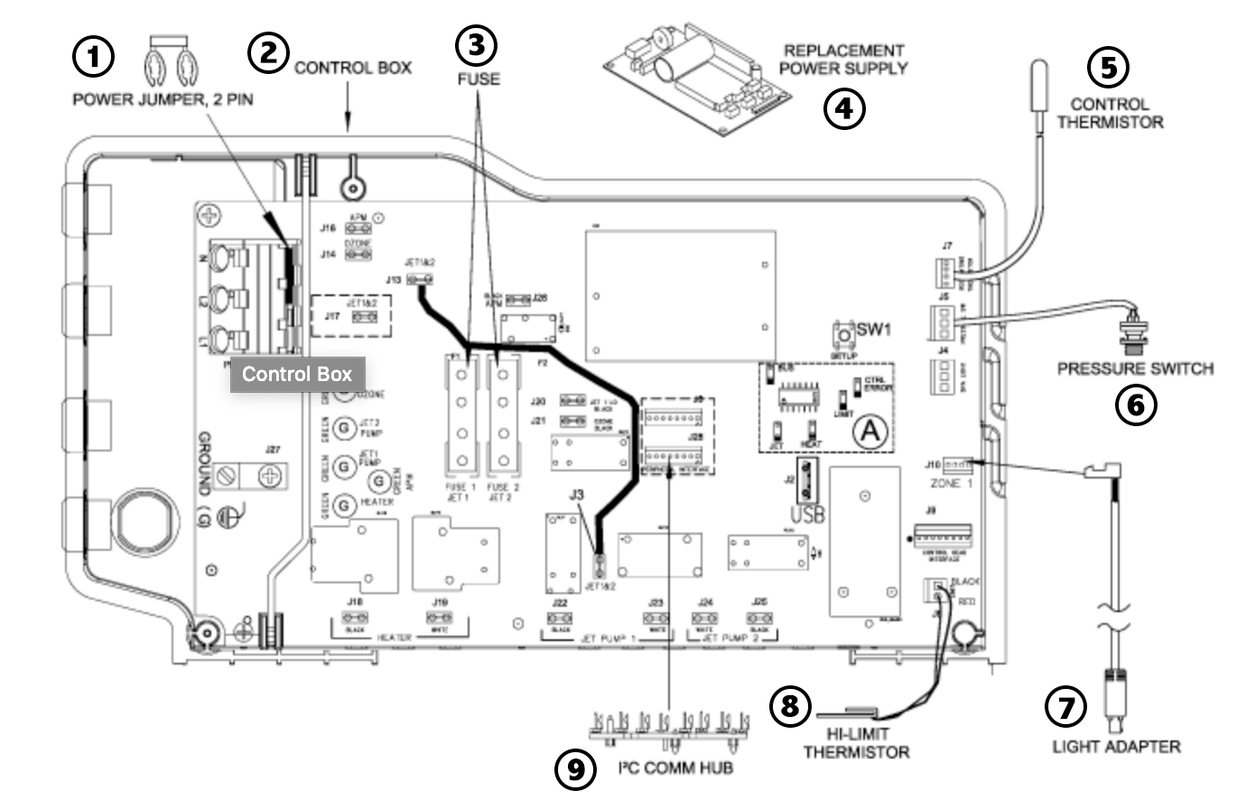 | | | |
| --- | --- | --- |
| Item | Description | Part # |
| 1 | POWER JUMPER,2 PIN,15MM,HAWK | 1306501 |
| 2 | CONTROL BOX, VACANZA HAWK 60hz | 76856 |
| 3 | FUSE, 25A 300V | 71618 |
| 4 | POWER SUPPLY, REPLACEMENT HAWK 12W | 78842 |
| 5 | THERMISTOR, CONTROL BULLET | 72493 |
| 6 | PRESSURE SWITCH, CEDRIC-HAWK | 73995 |
| 7 | LIGHT HARNESS, EAGLE/HAWK BOX | 76860 |
| 8 | THERMISTOR, HI LIMIT HSVZ | 73992 |
| 9 | I2C COMM, 4-PORT | 72742 |
| | | |
| --- | --- | --- |
| Item | Description | Part # |
| 1 | Control Box | 76840 |
| 2 | Kit Control | 76843 |
| 3 | Fuse 25A/ SC Time Delay | 71618 |
| 4 | Control Thermistor | 72493 |
| 5 | Split Nut Union 2" | 33761 |
| 6 | Heater Assy | 73994 |
| 7 | Pressure Switch | 73995 |
| 8 | Hi-Limit Thermistor | 73992 |
| 9 | Tailpiece Heater | 73905 |
| 10 | O-Ring Tail Piece | 34447 |
| | | |
| --- | --- | --- |
| Item | Description | Part # |
| 1 | Control Box HS Hawk DOM 12 | 76840 |
| 2 | Control Panel HS Hawk CG 12 | 76843 |
| 3 | Fuse 25A/300V SC Time Delay | 71618 |
| 4 | Control Thermistor | 72493 |
| 5 | Pressure Switch | 73995 |
| 6 | Light Adaptor Eagle/Hawk | 76860 |
| 7 | Hi-Limit Thermistor | 73992 |
| 8 | Kit 12C Comm Hub 8 Port | 74150 |
| 9 | Power Jumper 2 Pin | 39192 |
| | | |
| --- | --- | --- |
| Item | Description | Part # |
| 1 | 15 Amp/ 115v GFCI w/Cover | 37870 |
| 2 | Control Box | Use 76840 |
| 3 | Fuse 25A/300V SC Time Delay | 71618 |
| 4 | Control Thermistor | 72493 |
| 5 | Split Nut Union 2" | 33761 |
| 6 | Heater Assy | 73994 |
| 7 | Presssure Switch | 73995 |
| 8 | Hi-Limt Thermistor | 73992 |
| * | Tail Piece Heater | 70905 |
| * | O-Ring Tail Piece | 34447 |