Pressure Switch
This part is a replacement Pressure Switch for select Hot Spot and Solana hot tub models. This part is a safety device designed to prevent overheating of the spa heater should a low or no-flow condition exist in the spa.
When installing, handle the jet assembly for care. Compatible with 2006 to current Hot Spot and Solana spa models.
*Check specs section for full list of compatible models and years.
Specifications
---
| | | |
| --- | --- | --- |
| Make | Model | Date Range |
| Hot Spot |  Relay | 2010-Current |
| Hot Spot  | Rhythm  | 2010-Current |
| Hot Spot  | Tempo  | 2010-Current  |
| Hot Spot  | SX  | 2011-Current  |
| Hot Spot  | TX  | 2011-Current  |
| Hot Spot  | Mallorca  | 2006-2009 |
| Hot Spot  | Sorrento  | 2006-2009 |
| Hot Spot  | La Palma  | 2008-2009  |
| Hot Spot  | Tobago  | 2006-2009 |
| Hot Spot  | Trinidad  | 2006-2009  |
| Solana  | SX  | 2006-2010 |
| Solana  | TX  | 2006-2010  |
| Solana  | RX  | 2006-2009   |
| Caldera | Palatino  | 2010-Current  |
| Caldera  | Marino  | 2010-Current  |
| Caldera  | Vanto  | 2011-Current  |
| Caldera  | Aventine  | 2006-Current |
| Caldera  | Cumberland  | 2006-2009 |
| Caldera  | Olympia  | 2006-2009 |
| Caldera  | Tarino  | 2013-Current  |
| Caldera  | C 30  | 2006-2009 |
| Caldera  | San Gabriel  | 2008-2008  |
| Caldera  | Oasis  | 2006-2009 |
| Caldera  | C 45  | 2006-2009  |
---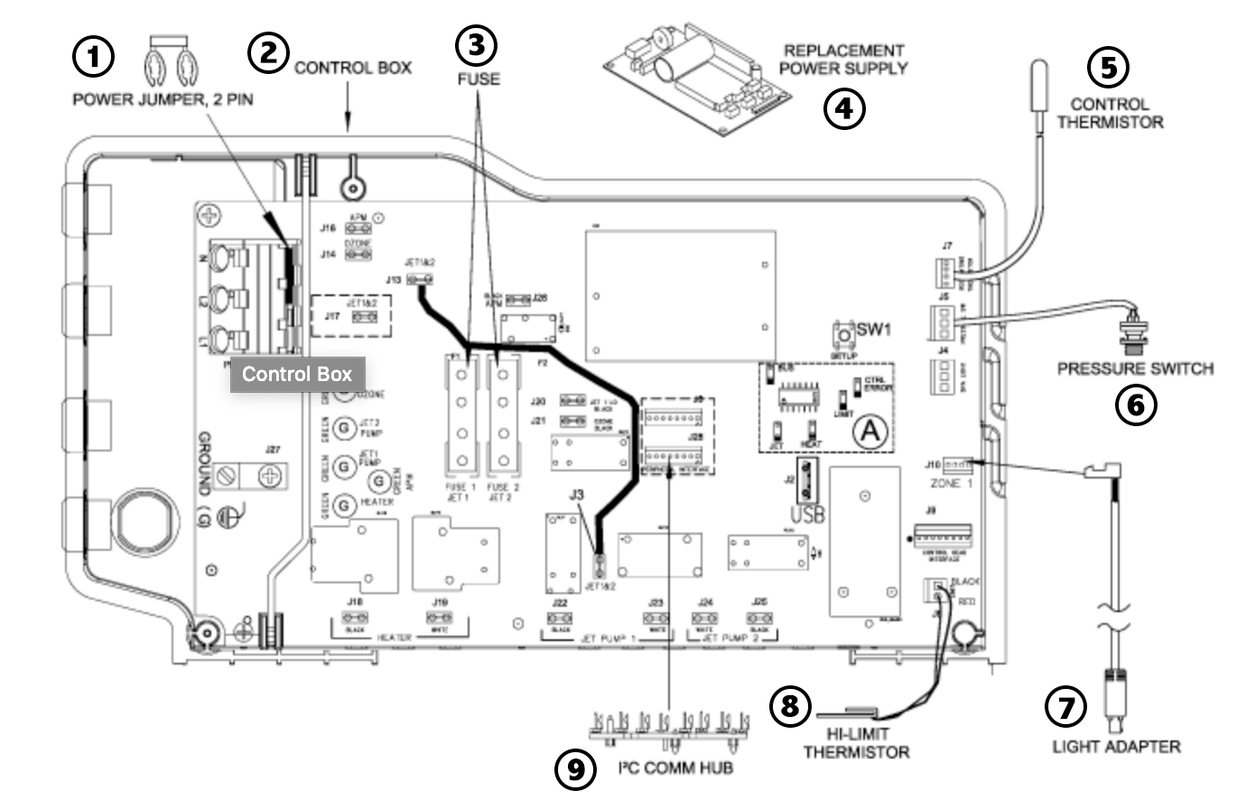 | | | |
| --- | --- | --- |
| Item | Description | Part # |
| 1 | POWER JUMPER,2 PIN,15MM,HAWK | 1306501 |
| 2 | CONTROL BOX, VACANZA HAWK 60hz | 76856 |
| 3 | FUSE, 25A 300V | 71618 |
| 4 | POWER SUPPLY, REPLACEMENT HAWK 12W | 78842 |
| 5 | THERMISTOR, CONTROL BULLET | 72493 |
| 6 | PRESSURE SWITCH, CEDRIC-HAWK | 73995 |
| 7 | LIGHT HARNESS, EAGLE/HAWK BOX | 76860 |
| 8 | THERMISTOR, HI LIMIT HSVZ | 73992 |
| 9 | I2C COMM, 4-PORT | 72742 |
| | | |
| --- | --- | --- |
| Item | Description | Part # |
| 1 | Control Box | 76840 |
| 2 | Kit Control | 76843 |
| 3 | Fuse 25A/ SC Time Delay | 71618 |
| 4 | Control Thermistor | 72493 |
| 5 | Split Nut Union 2" | 33761 |
| 6 | Heater Assy | 73994 |
| 7 | Pressure Switch | 73995 |
| 8 | Hi-Limit Thermistor | 73992 |
| 9 | Tailpiece Heater | 73905 |
| 10 | O-Ring Tail Piece | 34447 |
| | | |
| --- | --- | --- |
| Item | Description | Part # |
| 1 | Control Box HS Hawk DOM 12 | 76840 |
| 2 | Control Panel HS Hawk CG 12 | 76843 |
| 3 | Fuse 25A/300V SC Time Delay | 71618 |
| 4 | Control Thermistor | 72493 |
| 5 | Pressure Switch | 73995 |
| 6 | Light Adaptor Eagle/Hawk | 76860 |
| 7 | Hi-Limit Thermistor | 73992 |
| 8 | Kit 12C Comm Hub 8 Port | 74150 |
| 9 | Power Jumper 2 Pin | 39192 |
| | | |
| --- | --- | --- |
| Item | Description | Part # |
| 1 | Control Box | Use 76840 |
| 2a | Kit Control Panel Hot Spot ACR | Use 76843 |
| 2b | Control Head (SX & TX only) | Use 76843 |
| 3 | Fuse 25A/300V SC Time Delay | 71618 |
| 4 | Control Thermistor | 72493 |
| 5 | Split Nut Union 2" | 33761 |
| 6 | Heater Assy | 73994 |
| 7 | Pressure Switch | 73995 |
| 8 | Hi Limit Thermistor | 73992 |
| 9 | Tailpiece Heater | 70905 |
| 10 | O-Ring Tail Piece | 34447 |
| | | |
| --- | --- | --- |
| Item | Description | Part # |
| 1 | 15 Amp/ 115v GFCI w/Cover | 37870 |
| 2 | Control Box | Use 76840 |
| 3 | Fuse 25A/300V SC Time Delay | 71618 |
| 4 | Control Thermistor | 72493 |
| 5 | Split Nut Union 2" | 33761 |
| 6 | Heater Assy | 73994 |
| 7 | Presssure Switch | 73995 |
| 8 | Hi-Limt Thermistor | 73992 |
| * | Tail Piece Heater | 70905 |
| * | O-Ring Tail Piece | 34447 |