Freshwater Spa Salt Test Strips, 25 Pack
This product allows you to check the appropriate chemical balance for your spa. Efficient and accurate results that test dichlor, alkalinity, and hardness of your spa water.
Specifications
1. Open the bottle and take out one strip to test your spa water.
2. Compare results using the chart on the back of the bottle and adjust chemicals when needed.
For maintenance, it is necessary to keep your spa chlorine 2 to 3 ppm reading and your alkalinity level 80 to 120 ppm.
*It is important to maintain the pH between 7.2 and 7.8. High pH (above 7.8) can cause scaling and/or cloudy or colored water.
| | | |
| --- | --- | --- |
| Item | Description | Part # |
| 1 | Ace System, Complete Assembly | 76067 |
| 2 | Ace System, Cell | 76078 |
| 3 | Controller, Ace 15-C | 77401 |
| 4 | Ace Cleaning Bottle, SVC | 77044 |
| 5 | Ace System, Spa Salt | 80000 |
| 6 | FW Salt Test Strips | 76771 |
| 7 | FW, Ace Cell Cleaner 12/CS | 77139 |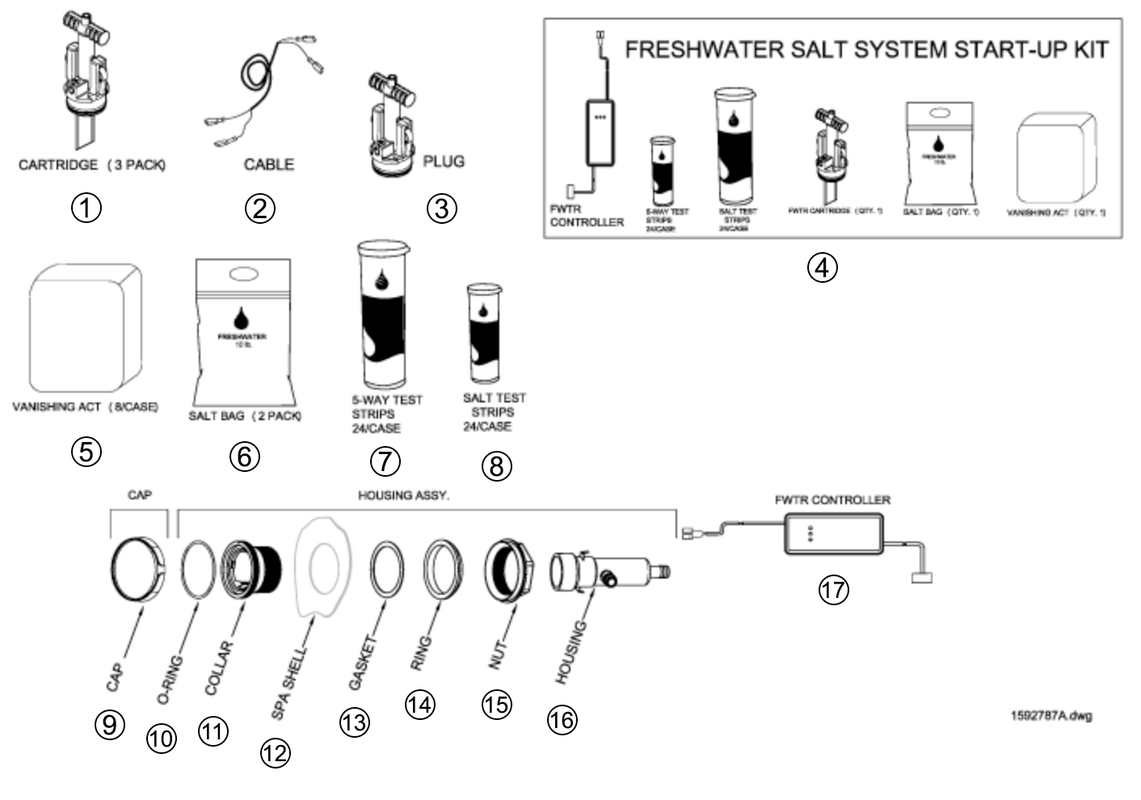 | | | |
| --- | --- | --- |
| Item | Description | Part # |
| 1 | FWTR,SALT SYS CARTRDG 3PK,6/CS | 80004 |
| 2 | CABLE, EXTENSION FWTR 7' | 78505 |
| 3 | PLUG, FWTR SYSTEM 19-C | 78510 |
| 4 | FWTR, SALT SYS STARTUP KIT | 80001 |
| 5 | VANISHING ACT CALCIUM REMOVER | 76029 |
| 6 | FWTR, SPA SALT 10LB 2/CS | 80000 |
| 7 | FWTR, 5-WAY TEST STRIP 24/CS | 80090 |
| 8 | FWTR, SALT TEST STRIPS 24/CS | 80092 |
| 9 | CAP, HSS FWTR SYSTEM 19-C | 78506 |
| 10 | HOUSING, FWTR SYSTEM 19-C | 78508 |
| 11 | HOUSING, FWTR SYSTEM 19-C | 78508 |
| 12 | HOUSING, FWTR SYSTEM 19-C | 78508 |
| 13 | HOUSING, FWTR SYSTEM 19-C | 78508 |
| 14 | HOUSING, FWTR SYSTEM 19-C | 78508 |
| 15 | HOUSING, FWTR SYSTEM 19-C | 78508 |
| 16 | HOUSING, FWTR SYSTEM 19-C | 78508 |
| 17 | CONTROLLER, FWTR SYSTEM 19-C | 78503 |