Freshwater Spa Salt for Sanitizing Systems, 10LB
This product sanitizes your spa by automatically generating chlorine with just a little added salt. Easy-to-use system that makes maintenance more time efficient.
Specifications
1. Add 1/4 to 1/2 cup in the filter compartment and wait 30 minutes between doses.
2. Add the desired amount based upon the test strips no longer reading low levels.
For maintenance, it is necessary to treat this in the spa once a year.
*It is important to maintain the pH between 7.2 and 7.8. High pH (above 7.8) can cause scaling and/or cloudy or colored water.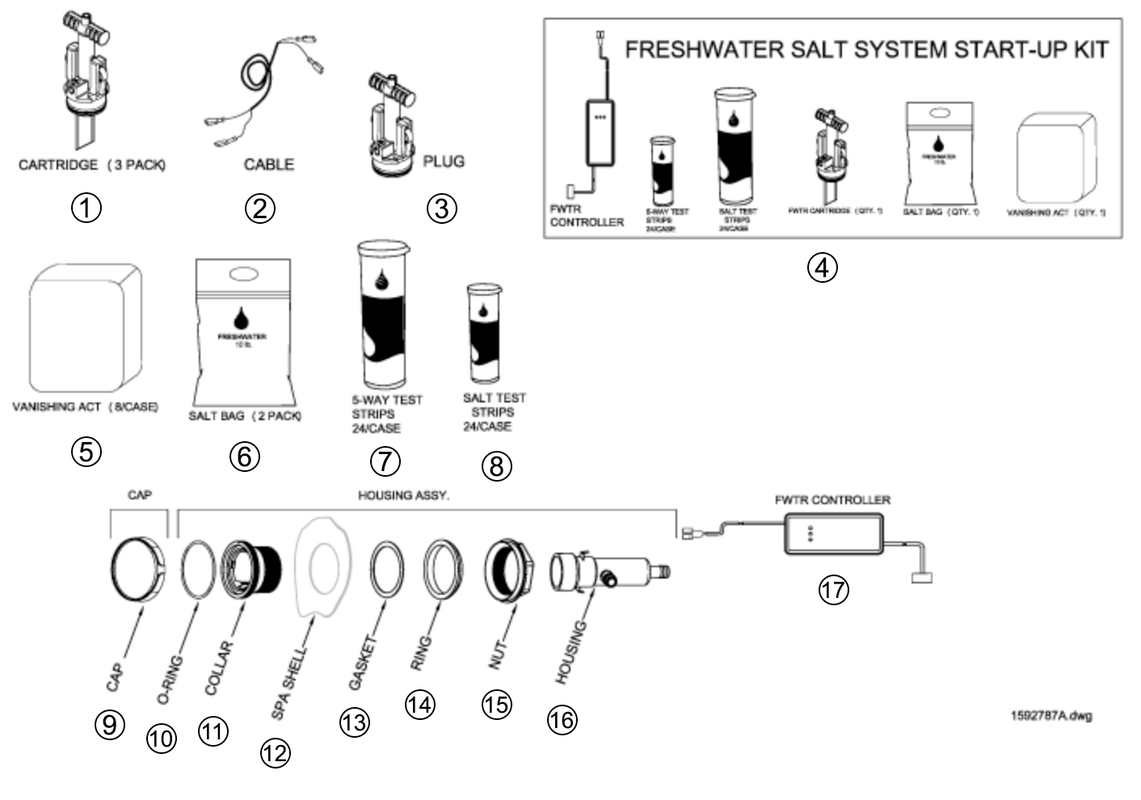 | | | |
| --- | --- | --- |
| Item | Description | Part # |
| 1 | FWTR,SALT SYS CARTRDG 3PK,6/CS | 80004 |
| 2 | CABLE, EXTENSION FWTR 7' | 78505 |
| 3 | PLUG, FWTR SYSTEM 19-C | 78510 |
| 4 | FWTR, SALT SYS STARTUP KIT | 80001 |
| 5 | VANISHING ACT CALCIUM REMOVER | 76029 |
| 6 | FWTR, SPA SALT 10LB 2/CS | 80000 |
| 7 | FWTR, 5-WAY TEST STRIP 24/CS | 80090 |
| 8 | FWTR, SALT TEST STRIPS 24/CS | 80092 |
| 9 | CAP, HSS FWTR SYSTEM 19-C | 78506 |
| 10 | HOUSING, FWTR SYSTEM 19-C | 78508 |
| 11 | HOUSING, FWTR SYSTEM 19-C | 78508 |
| 12 | HOUSING, FWTR SYSTEM 19-C | 78508 |
| 13 | HOUSING, FWTR SYSTEM 19-C | 78508 |
| 14 | HOUSING, FWTR SYSTEM 19-C | 78508 |
| 15 | HOUSING, FWTR SYSTEM 19-C | 78508 |
| 16 | HOUSING, FWTR SYSTEM 19-C | 78508 |
| 17 | CONTROLLER, FWTR SYSTEM 19-C | 78503 |