Snap Ring
This replacement part is a snap ring for your Hot Spring hot tubs. The ring is made for diverter valves.
Install the snap ring using the snap ring tool. Compatible with a variety of the 1994 to current Hot Spring Highlife, Hot Spot, Solana, Caldera spa models, and Endless Pools models.
*Check specs section for full list of compatible models and years.
Specifications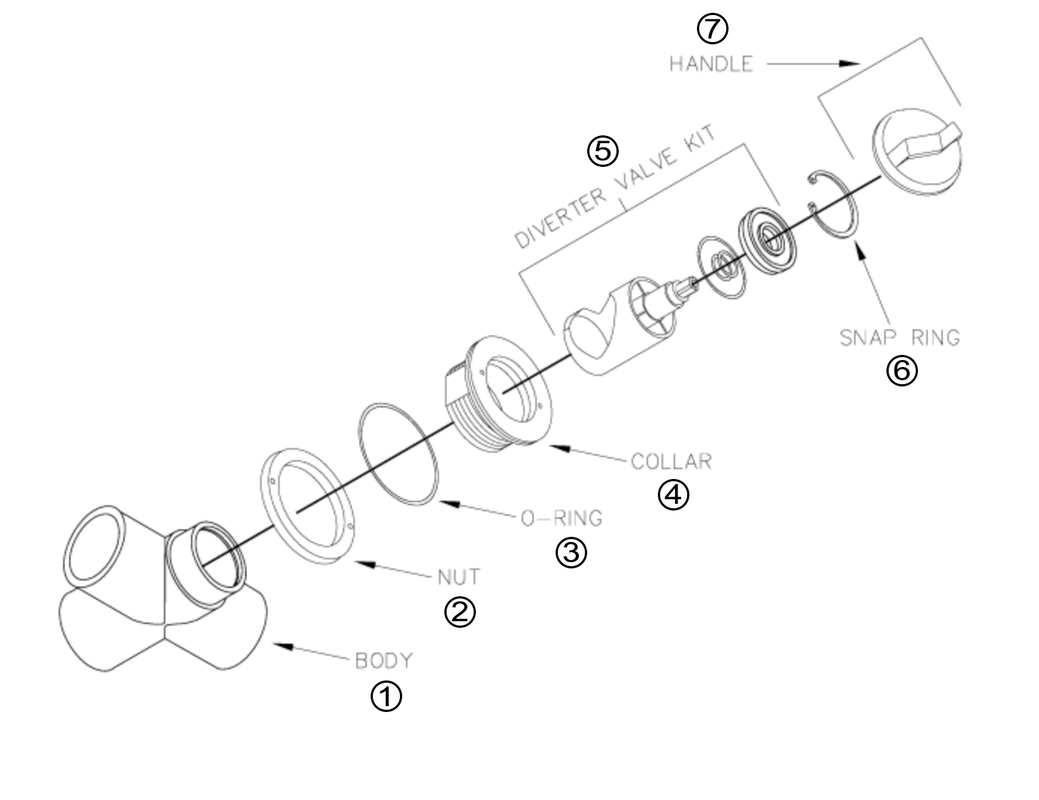 | | | |
| --- | --- | --- |
| Item | Description | Part # |
| 1 | VALVE BODY | N/A |
| 2 | KIT,NUT,DIV,HSS 09 | 75117 |
| 3 | O-RING 2IN DIVERTER 238EPDM | 34319 |
| 4 | KIT,COLLAR,DIVERTER VALVE | 75116 |
| 5 | CORE, DV 2PORT HSS 98-C | 71494 |
| 6 | SNAP RING 2IN DIVERTER | 34350 |
| 7 | HANDLE, DIVERTER VALVE CHARCOAL GRAY 20-C | 78899 |
| | | |
| --- | --- | --- |
| Item | Description | Part # |
| 1 | Body, Diverter Valve (2 Position) | 37704 |
| 2 | Nut, Diverter Valve | 75117 |
| 3 | O-ring | 34319 |
| 4 | Collar, Diverter Valve | 75116 |
| 5 |  Diverter Valve Kit |  70849 |
| 6a |  Diverter Bezel 2IN 94 | 34310 |
| 6b | Diverter Bezel 2IN Grey | 36220 |
| 7 |   Snap Ring, Diverter Valve | 34350  |
| 8 |  Diverter Valve Kit Screw 8-16x1/2 |  33850 |
| 9a |  Air Control And Diverter Valve Screw Cap White | 33833  |
| 9b | Air Control And Diverter Valve Cap Gray Quarite | 36224 |
| 10 | Diverter Valve Lever White  | 34311  |
| | | |
| --- | --- | --- |
| Item  | Description | Part # |
| 1a | Kit Lever Bezel White | 73361 |
| 1b | Kit Lever Bezel WGry | 73362 |
| 1c | Kit Lever Bezel CGry | 73363 |
| 1d | Kit Lever Bezel IMD WGry | 73820*** |
| 2 | Kit Diverter Retrofit | 71799* |
| 4 | Snap Ring | 34350 |
| 5 | Collar | 75116 |
| 6 | O-Ring (238) Or (Or Silicone Adhesive RTV | 34319 |
| 7 | Nut | 75117 |
| 8 | Body | 37297 |
| 9A | Valve Kit | 71495 |
| 9B | Kit Modified 6 Port Diverter Flow Restrictor | 73769 |
| | | |
| --- | --- | --- |
| Item | Description | Part # |
| 1 | Kit Lever Bezel Grey | 73363 |
| 2 | Kit Deverter Retrofit | 71799 |
| 3 | Bezel Lever Screw | * |
| 4 | Snap Ring | 34350 |
| 5 | Collar | 75116 |
| 6 | O-Ring (238) (or Sinilcone Adhesive RTV) | 34319 |
| 7 | Nut | 75117 |
| 8 | Body | 37297 |
| 9 | Valve Kit | 71495 |
| ** | Snap Ring Tool | 70825 |
| | | |
| --- | --- | --- |
| Item | Decription | Part # |
| 1A | Kit Lever Bezel White | 73361 |
| 1B | Kit Lever Bezel Grey | 73360 |
| 1C | Kit Lever Bezel Taupe | * |
| 2 | Kit Deverter Retrofit | 71799 |
| 3 | Lever and Bezel | * |
| 4 | Snap Ring | 34350 |
| 5 | Collar | 75116 |
| 6 | O-Ring (2328) (or Silicone Adhesive RTV) | 34319 |
| 7 | Nut | 75117 |
| 8 | Body | 37704 |
| 9 | Valve Kit | 71494 |
| ** | Snap Ring Tool | 70825 |