Watkins 71699 Wavemaster Complete Pump - 1.65Hp
$833.88
Delivery Time Up To Two Weeks
Add to Wish List
Update: All Sales Are Final
Wavemaster Complete Pump+ 1.65hp
This part is a replacement Wavemaster Complete Pump+ 1.65hp for select Hot Spring hot tubs. Crafted for all 110 and 120 volt models.
Single speed 220 volt jet pump. Compatible with 1997 to current Hot Spring Highlife, Limelight, and Tiger River spa models.
*Check specs section for full list of compatible models and years.
Specifications
---
| | | |
| --- | --- | --- |
| Make | Model | Date Range |
| Hot Spring | Grandee | 1997-2003 |
| Hot Spring | Vanguard | 2005-2013 |
| Hot Spring | Jetsetter | 1997-2016 |
| Hot Spring | Prodigy | 1997-2016 |
| Hot Spring | Sovereign | 1997-2003 |
| Hot Spring | Classic | 1997-2000 |
| Hot Spring | Landmark | 1998-2003 |
| Hot Spring | Bengal | 1997-2010 |
| Hot Spring | Sumatran | 1997-2010 |
---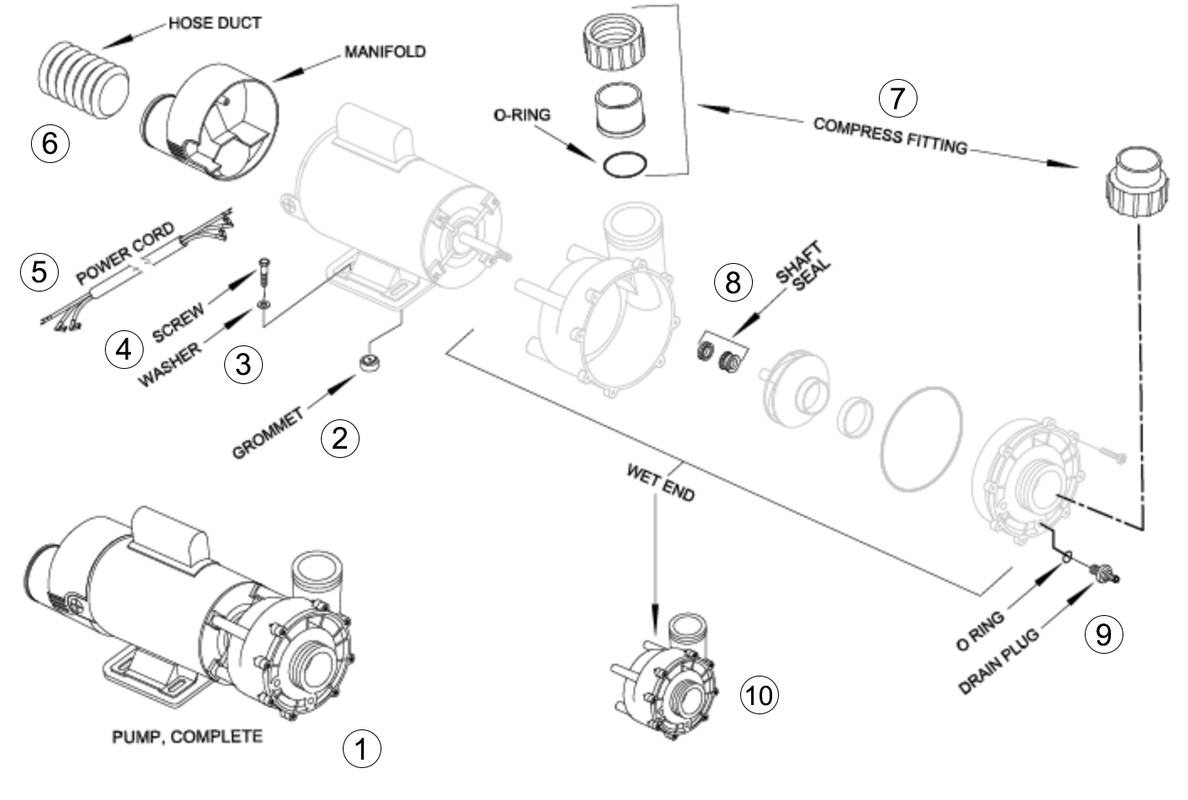 | | | |
| --- | --- | --- |
| Item | Decsription | Part # |
| 1 | JET PUMP, 1.65HP 1SP DUAL 60HZ | 71699 |
| 2 | GROMMET, JET PUMP BASE 97-C | 72349 |
| 3 | WASHER FLT 5/16X3/4 SS | 30413 |
| 4 | SCW 1/4-20X1-1/2 MS PH PLP SS | 30018 |
| 5 | POWER CORD | N/A |
| 6 | EXHAUST HOSE, JET PUMP 01-C | 72344 |
| 7a | UNION, PUMP | 1119401 |
| 7b | 2" SOC.90 DEG SWEEP PUMP UNION | 301488 |
| 7c | 429-020 CPLG 2IN SLXSL | 30665 |
| 7d | O-RING, COMPRESSION FITTING | 34447 |
| 7e | HOSE, PVC FLEX 2" X 36" | 70308 |
| 7f | FITTING COMPRESS 2 W/O-RING | 71036 |
| 7g | FITTING COMPRESS 2X1.5 W/ORING | 71037 |
| 7h | FITTING COMPRE 1.5W/O-RNG | 71038 |
| 7i | SPLIT NUT, 2" JET PUMP | 72072 |
| 8a | SHAFT SEAL ASSEMBLY | 71447 |
| 8b | SEAL, SHAFT LX JET PUMP #3536 | 77363 |
| 9a | ADAPTER 1/2IN HOSE 0675-063 | 33732 |
| 9b | ADAPTER ELL, 1/4-MIPT 1/2-BARB | 39438 |
| 10a | WET END 1.65 HP 60HZ ST D | 72994 |
| 10b | WET END 1.5/1.65 HP 60 HZ L-03 | 77711 |