Tri-X Ceramic Cartridge Filter
This part is a replacement tri-x ceramic cartridge filter for select Hot Spring hot tub models. Crafted to filter the water twice as fast as the common filter.
6" diameter by 10.5" long. Compatible with 1989 to current Hot Spring Highlife, Hot Spot, Hot Spot, and Solana spa models.
*Check specs section for full list of compatible models and years.
Specifications
---
| | | |
| --- | --- | --- |
| Make | Model | Date Range |
| Hot Spring | Grandee | 1991-Current |
| Hot Spring | Vista  | 2004-2013 |
| Hot Spring | Envoy | 2004-Current |
| Hot Spring | Vanguard | 2001-Current |
| Hot Spring | Grandee NXT | 2014-Current |
| Hot Spring | Envoy NXT | 2014-Current |
| Hot Spring | Jetsetter NXT | 2014-Current |
| Hot Spring | Jetsetter | 1991-Current |
| Hot Spring | Prodigy | 1991-Current |
| Hot Spring | Sovereign | 1991-Current |
| Hot Spring | Alccolade | 2005-2006 |
| Hot Spring | Landmark | 1997-2003 |
| Hot Spring | Aria | 2007-2015 |
| Hot Spring | Highlife ILE | 2003 |
---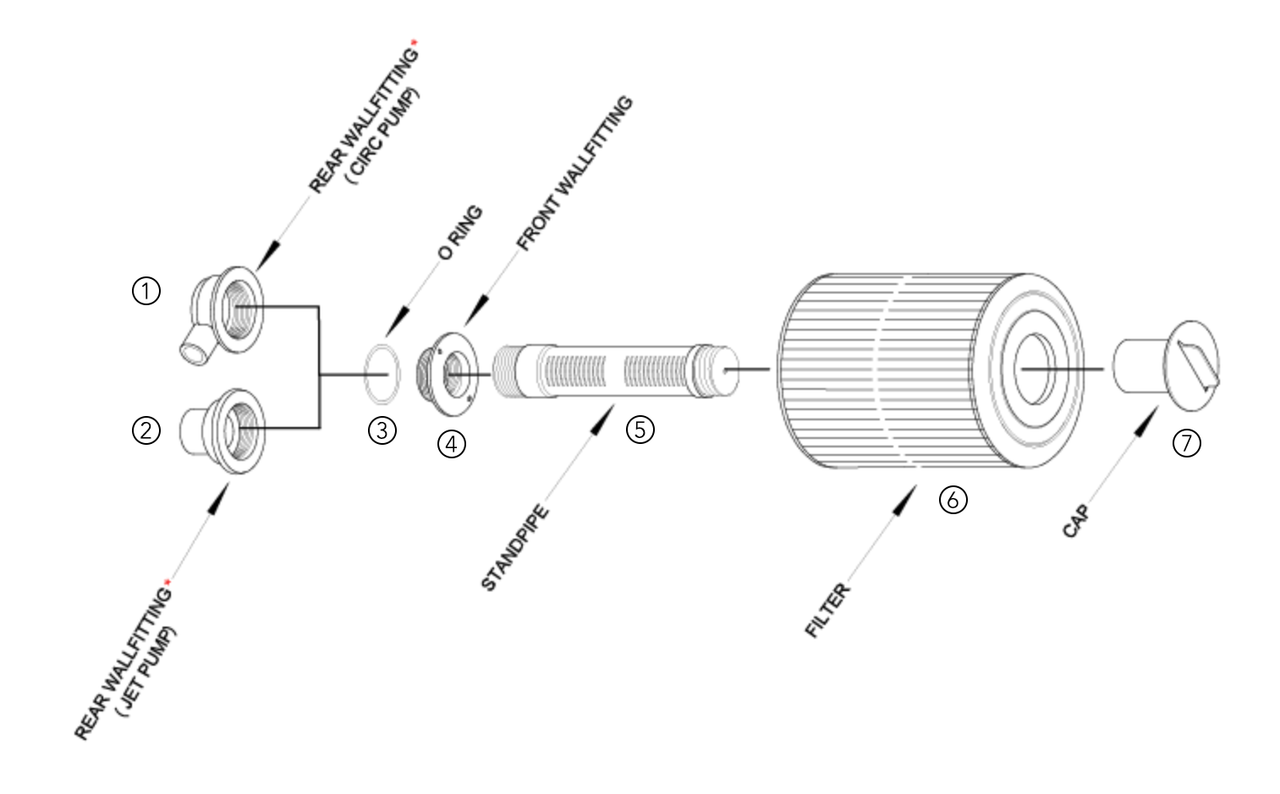 | | | |
| --- | --- | --- |
| Item | Description | Part # |
| 1 | Drain Wallfitting 3/4 Inch | 35911 |
| 2 | Wallfitting, Rear: Wallfitting #1 Rear | 30490 |
| 3 | O-ring: 0-ring 2.350inx.190in 30 Sil | 30482 |
| 4a | Wallfitting #1 Front | 30488 |
| 4b | Wallfitting, Grey W/O Knockout | 71263 |
| 5a | Standpipe Filter 9-3/4In | 31390 |
| 5b | Standpipe, W/Restrictor | 76504 |
| 6 | Filter, 65Sf Tri-X 9/Cs | 73250 |
| 7a | Standpipe,Cap 3-1/2,Hss,White | 31389 |
| 7b | Standpipe,Cap 3-1/2,Tr,Grey | 36513 |