This is a wet end kit for the Wavemaster 9000 2.5hp jet pump.
Jet pumps have a motor and a wet end. This is the complete wet end of the jet pump.
This kit includes a volute, a cover for the volute, a volute o-ring, screws, a wear ring, an impeller and a shaft seal.
Specifications
| | | |
| --- | --- | --- |
| Item | Decsription | Part # |
| 1A | Motor 1.65 HP X (Discontinued) | 71399** |
| 1B | Motor 1.5 HP XP  (Part Not Available Use Following Part #) | 71699 |
| 1C | Motor 2.0HP 1SP (Watkins Recommends Replacing entire Jet Pump) | ** |
| 1D | Motor 2.0HP 2SP (Watkins Recommends Replacing entire Jet Pump) | ** |
| 1E | Motor 2.5 HP 1SP | 71402** |
| 1F | Motor 2.5 HP 1SP (Watkins Recommends Replacing entire Jet Pump) | ** |
| 2A | Wet End Kit 1.65 HP | 72994** |
| 2B | Wet End Kit 1.5 HP | 72993** |
| 2C | Wet End Kit 2.0 HP 1SP | 72995** |
| 2D | Wet End Kit 2.0 HP 2SP | 72995** |
| 2E | Wet End Kit 2.5 HP 1 SP | 72996** |
| 2F | Wet End Kit 2.5 HP 2 SP | 72996** |
| 3 | Kit Shaft Seal Assy | 71447** |
| 4A | Impeller 1.65 HP XP | 71403** |
| 4B | Impeller 1.5 HP XP (Part Not Available Use Following Part #) | 71699 |
| 4C | Impeller 2.0HP 1SP (Watkins Recommends Replacing Entire Jet Pump) | ** |
| 5 | Wear Ring XP | 71409** |
| 6 | O-Ring Volute XP | 71410** |
| 7 | Screw 8-32 X 5/8 (XP Volute) | 71413 |
| 8 | Drain Fitting W/O-Ring | 32267 |
| 9 | O-Ring Drain Nipple XP | N/A |
| 10 | Kit Base Grommet (Quantity 4) | 72349 |
| 11 | Washer FLT 5/16 x 3/4 SS | 30413 |
| 12 | Screw 1/4-20 x 1-1/4 PH PLP PLTMS | 30018 |
| 13A | Manifold XP Emerson | N/A |
| 13B | Manifold XP Magnetek | N/A |
| * | Cord 14/3 XP Pump | 71416 |
| * | Jet Pump 1.65 HP XP | 71699 |
| * | Jet Pump 1.5 HP XP (Part Not Available Replace Entire Jet Pump Use Part #) | 71699 |
| * | Jet Pump 2.0 HP 1SP | 72194 |
| * | Jet Pump 2.0 HP 2SP | 72197 |
| * | Jet Pump 2.5 HP 1SP | 72196 |
| * | Jet Pump 2.5 HP 2 SP | 73023 |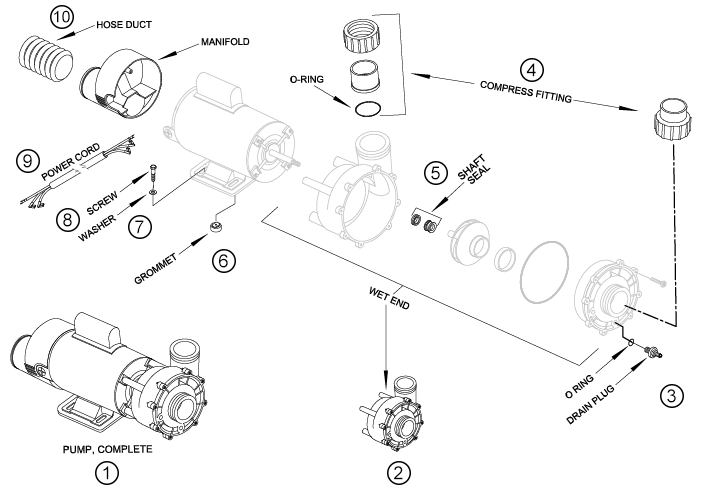 | | | |
| --- | --- | --- |
| Item | Description | Part # |
| 1 | JET PUMP, 2.5HP 1SP 230V 60HZ | 72196 |
| 2A | WET END 2.5 HP 60HZ ST D | 72996 |
| 2B | WET END 2.5 HP 60 HZ, L-03 | 77713 |
| 3 | DRAIN FITTING, JET PUMP 1/4IN | 32267 |
| 4A | UNION, PUMP | 1119401 |
| 4B | 2" SOC.90 DEG SWEEP PUMP UNION | 301488 |
| 4C | 429-020 CPLG 2IN SLXSL | 30665 |
| 4D | O-RING, COMPRESSION FITTING | 34447 |
| 4E | HOSE, PVC FLEX 2" X 36" | 70308 |
| 4F | ITTING COMPRESS 2 W/O-RING | 71036 |
| 4G | FITTING COMPRESS 2X1.5 W/ORING | 71037 |
| 4H | FITTING COMPRE 1.5W/O-RNG | 71038 |
| 4I | SPLIT NUT, 2" JET PUMP | 72072 |
| 5A | SHAFT SEAL ASSEMBLY | 71447 |
| 5B | SEAL, SHAFT LX JET PUMP #3536 | 77363 |
| 6 | GROMMET, JET PUMP BASE 97-C | 72349 |
| 7 | WASHER FLT 5/16X3/4 SS | 30413 |
| 8 | SCW 1/4-20X1-1/2 MS PH PLP SS | 30018 |
| 9 | KIT, PUMP CORD 14/3 1SPD STRS | 72462 |
| 10 | EXHAUST HOSE, JET PUMP 01-C | 72344 |