Diverter Valve
This part is a replacement Smart Jet diverter valve with o-rings for your Hot Spring hot tubs. Divert the water to different sections of the spa jets by turning the valve to one of the two positions.
Replace this part if the current valve is hard to turn or is broken. Compatible with a variety of 1998 to current Hot Spring Highlife, Hot Spot, Limelight, and Tiger River spa models.
*Check specs section for full list of compatible models and years.
Specifications
---
| | | |
| --- | --- | --- |
| Make | Model | Date Range |
| Hot Spring | Grandee | 1998-Current |
| Hot Spring | Envoy | 2004-Current |
| Hot Spring | Vanguard | 2001-Current |
| Hot Spring | Grandee NXT | 2014-Current |
| Hot Spring | Envoy NXT | 2014-Current |
| Hot Spring | Jetsetter NXT | 2014-Current |
| Hot Spring | Jetsetter | 1998-Current |
| Hot Spring | Prodigy | 1998-Current |
| Hot Spring | Sovereign | 1998-Current |
| Hot Spring | Aria | 2007-Current |
| Tiger River | Siberian | 2001-2004 |
| Tiger River | Sumatran | 1998-2010 |
| Tiger River | Bengal Model MM | 2005-2010 |
| Limelight | Bolt | 2012-Current |
| Limelight | Pulse | 2008-Current |
| Limelight | Gleam | 2013-Current |
| Limelight | Flair | 2008-Current |
| Limelight | Glow | 2008-Current |
---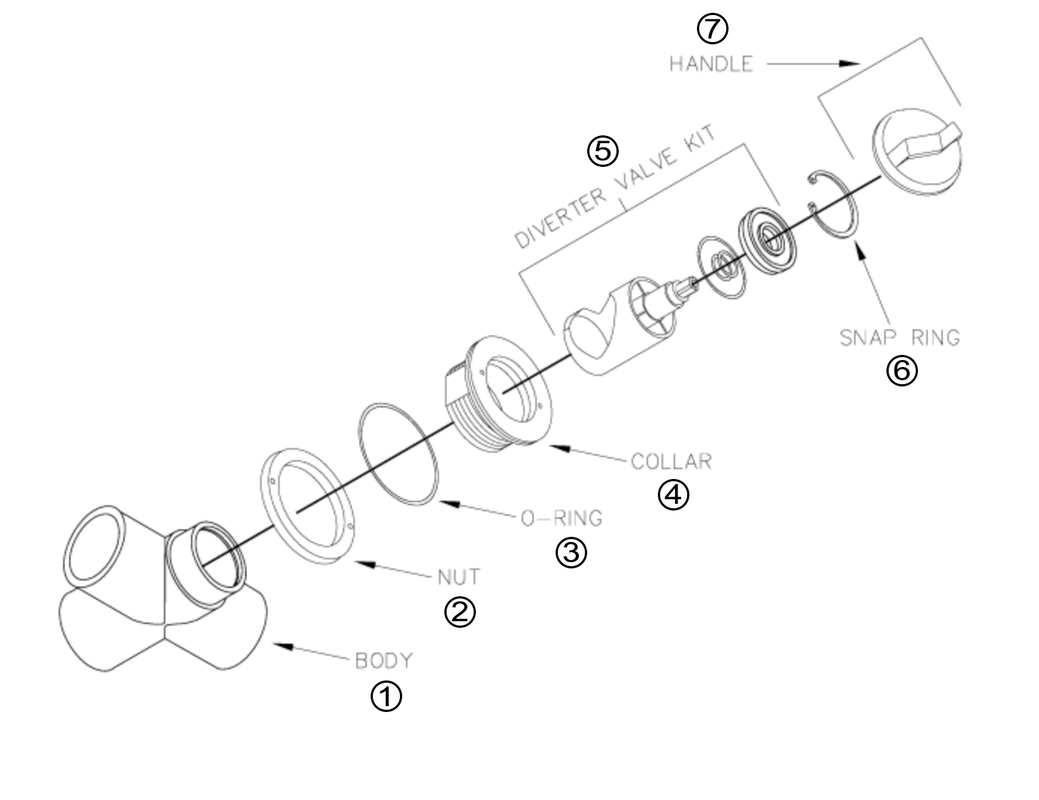 | | | |
| --- | --- | --- |
| Item | Description | Part # |
| 1 | VALVE BODY | N/A |
| 2 | KIT,NUT,DIV,HSS 09 | 75117 |
| 3 | O-RING 2IN DIVERTER 238EPDM | 34319 |
| 4 | KIT,COLLAR,DIVERTER VALVE | 75116 |
| 5 | CORE, DV 2PORT HSS 98-C | 71494 |
| 6 | SNAP RING 2IN DIVERTER | 34350 |
| 7 | HANDLE, DIVERTER VALVE CHARCOAL GRAY 20-C | 78899 |
| | | |
| --- | --- | --- |
| Item | Decription | Part # |
| 1A | Kit Lever Bezel White | 73361 |
| 1B | Kit Lever Bezel Grey | 73360 |
| 1C | Kit Lever Bezel Taupe | * |
| 2 | Kit Deverter Retrofit | 71799 |
| 3 | Lever and Bezel | * |
| 4 | Snap Ring | 34350 |
| 5 | Collar | 75116 |
| 6 | O-Ring (2328) (or Silicone Adhesive RTV) | 34319 |
| 7 | Nut | 75117 |
| 8 | Body | 37704 |
| 9 | Valve Kit | 71494 |
| ** | Snap Ring Tool | 70825 |
| | | |
| --- | --- | --- |
| Item | Description | Part # |
| 1a | Lever Diverter Valve CG | 75112 |
| 1b | Lever Diverter Valve WG | 75113 |
| 2a | Bezel Diverter Valve CG | 75114 |
| 2b | Bezel Diverter Valve WG | 75115 |
| 3 | Gasket/Light Pipe Diverter Valve | 75123 |
| 4 | Snap Ring | 34350 |
| 5 | Valve Kit | 71494 |
| 6 | Collar Diverter Valve | 75116 |
| 7 | O-Ring (238) (Or Silicone Adhesive RTV) | 34319 |
| 8 | Nut Diverter | 75117 |
| 9 | Body Diverter Valve | 37704 |
| * | Snap Ring Tool | 70825 |