LED Light Lens
This part is a replacement LED light lens assembly for select Hot Spring hot tubs and Endless Pool models. Made to mount along the spa shell or pool border to illuminate multi-colored LED lights.
Soak in water with ambient lighting for the most out of your experience. Compatible with 2010 to current Hot Spring Highlife, Hot Spot, Limelight, and Caldera spa models and Endless Pool models.
*Check specs section for full list of compatible models and years.
Specifications
---
| | | |
| --- | --- | --- |
| Make | Model | Date Range |
| Hot Spot | Relay | 2010-Current |
| Hot Spot | Rhythm | 2010-Current |
| Hot Spot | Tempo | 2010-Current |
| Caldera | Kauai | 2011-2015 |
| Caldera | Salina | 2011-2015 |
| Caldera | Makena | 2013-2015 |
| Caldera | Martinique | 2011-2015 |
| Caldera | Palatino | 2010-Current |
| Caldera | Marino | 2010-Current |
| Caldera | Vanto | 2011-Current |
| Caldera | Tarino | 2013-Current |
| Limelight | Bolt | 2012-Current |
| Limelight | Pulse | 2010-Current |
| Limelight | Gleam | 2013-Current |
| Limelight | Flair | 2010-Current |
| Limelight | Glow | 2010-Current |
| Endless Pools | E2000-58 | 2017-Current |
| Endless Pools | E500-52 | 2016-Current |
| Endless Pools | E500-58 | 2016-Current |
| Endless Pools | E700-52 | 2016-Current |
| Endless Pools | E700-58 | 2016-Current |
| Endless Pools | X200-50 | 2016-Current |
| Endless Pools | X500-50 | 2016-Current |
---
| | | |
| --- | --- | --- |
| Item | Description | P/N |
| 1 | Led Controller | 76116 |
| 2 | Lens assembly | 76117 |
| 3 | Single led harness | 74882 |
| 4 | Dual led harness | 74883 |
| 5 | Nut + o-ring, led sleeve | 74889 |
| 6A | Harness jumper, 5ft | 74890 |
| 6B | Harness jumper, 12ft | 74891 |
| * | Kit, grab rail boot | 74892/na |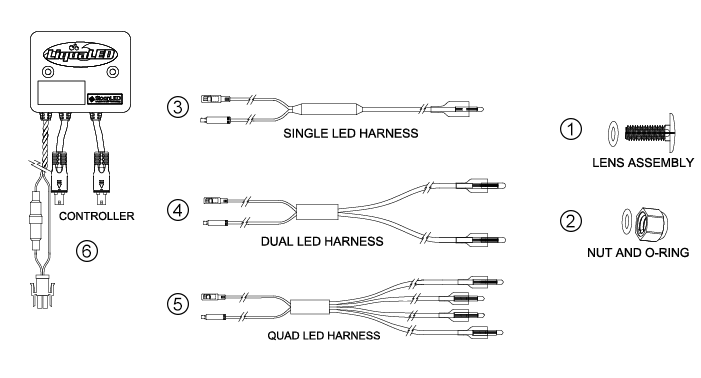 | | | |
| --- | --- | --- |
| Item | Description | Part # |
| 1 | LENS KIT, LED POL  | 76117  |
| 2 |  NUT KIT, LED SLEEVE | 74889 |
| 3 |  LED HARNESS, SINGLE 09-C | 74882  |
| 4 |  LED HARNESS, DUAL | 74883 |
| 5 | LED HARNESS, QUAD | 74884 |
| 6 | CONTROLLER, LED DUAL | 77758 |