Wet end kit for the Wavemaster 7000.
Jet pumps have a motor and a wet end. This is the complete wet end of the jet pump.
Correct wet end to vendor "4081" on jet pump. Please make sure this is the correct wet end for your spa.
This kit includes a volute, a cover for the volute, a volute o-ring, screws, a wear ring, an impeller and a shaft seal.
Hmax 19m, Qmax 600 L/min
115/230V, 60Hz, 17/8.5A
1.25kW/1.65HP
3450t/min, PH1, FR48, Class 155 (F), Code C
Time CONT, Crun 30 uF/300V, Cst 50 uF/300V
AMB 50 °C, Max water temp: 50 °C
Thermally Protected
Specifications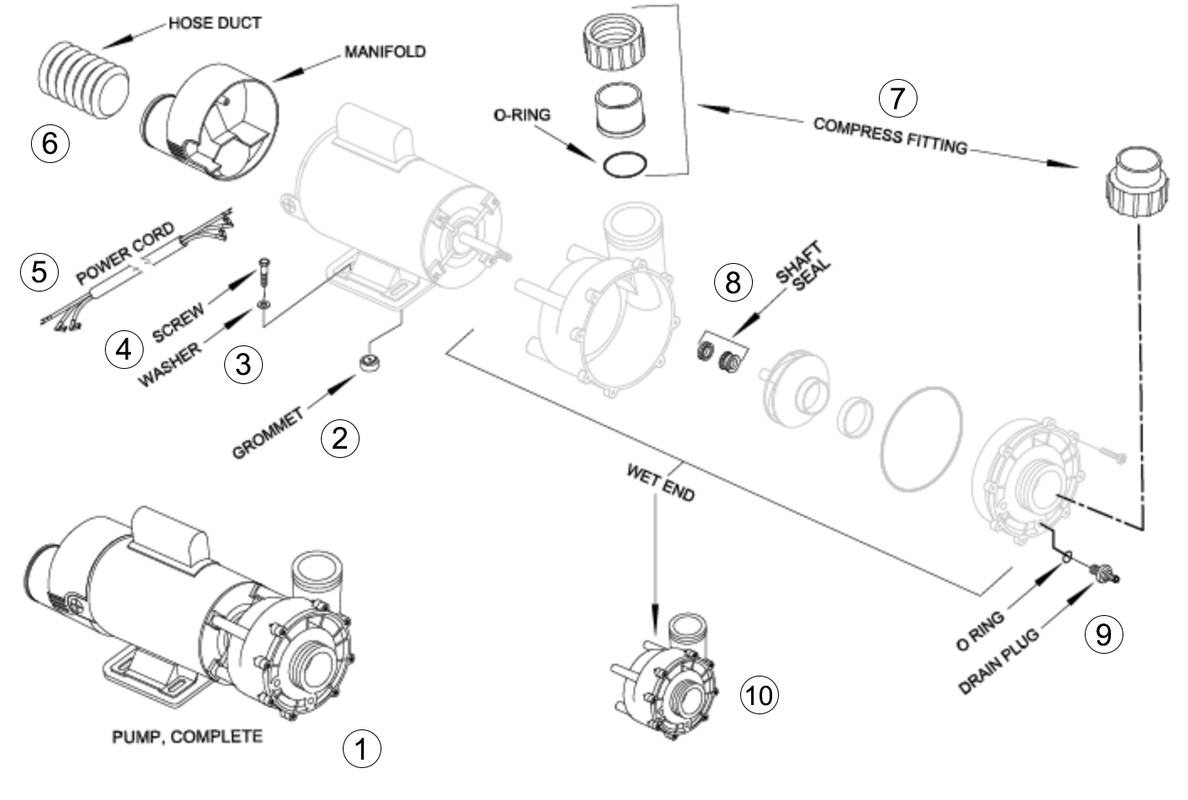 | | | |
| --- | --- | --- |
| Item | Decsription | Part # |
| 1 | JET PUMP, 1.65HP 1SP DUAL 60HZ | 71699 |
| 2 | GROMMET, JET PUMP BASE 97-C | 72349 |
| 3 | WASHER FLT 5/16X3/4 SS | 30413 |
| 4 | SCW 1/4-20X1-1/2 MS PH PLP SS | 30018 |
| 5 | POWER CORD | N/A |
| 6 | EXHAUST HOSE, JET PUMP 01-C | 72344 |
| 7a | UNION, PUMP | 1119401 |
| 7b | 2" SOC.90 DEG SWEEP PUMP UNION | 301488 |
| 7c | 429-020 CPLG 2IN SLXSL | 30665 |
| 7d | O-RING, COMPRESSION FITTING | 34447 |
| 7e | HOSE, PVC FLEX 2" X 36" | 70308 |
| 7f | FITTING COMPRESS 2 W/O-RING | 71036 |
| 7g | FITTING COMPRESS 2X1.5 W/ORING | 71037 |
| 7h | FITTING COMPRE 1.5W/O-RNG | 71038 |
| 7i | SPLIT NUT, 2" JET PUMP | 72072 |
| 8a | SHAFT SEAL ASSEMBLY | 71447 |
| 8b | SEAL, SHAFT LX JET PUMP #3536 | 77363 |
| 9a | ADAPTER 1/2IN HOSE 0675-063 | 33732 |
| 9b | ADAPTER ELL, 1/4-MIPT 1/2-BARB | 39438 |
| 10a | WET END 1.65 HP 60HZ ST D | 72994 |
| 10b | WET END 1.5/1.65 HP 60 HZ L-03 | 77711 |
| | | |
| --- | --- | --- |
| Item | Decsription | Part # |
| 1A | Motor 1.65 HP X (Discontinued) | 71399** |
| 1B | Motor 1.5 HP XP  (Part Not Available Use Following Part #) | 71699 |
| 1C | Motor 2.0HP 1SP (Watkins Recommends Replacing entire Jet Pump) | ** |
| 1D | Motor 2.0HP 2SP (Watkins Recommends Replacing entire Jet Pump) | ** |
| 1E | Motor 2.5 HP 1SP | 71402** |
| 1F | Motor 2.5 HP 1SP (Watkins Recommends Replacing entire Jet Pump) | ** |
| 2A | Wet End Kit 1.65 HP | 72994** |
| 2B | Wet End Kit 1.5 HP | 72993** |
| 2C | Wet End Kit 2.0 HP 1SP | 72995** |
| 2D | Wet End Kit 2.0 HP 2SP | 72995** |
| 2E | Wet End Kit 2.5 HP 1 SP | 72996** |
| 2F | Wet End Kit 2.5 HP 2 SP | 72996** |
| 3 | Kit Shaft Seal Assy | 71447** |
| 4A | Impeller 1.65 HP XP | 71403** |
| 4B | Impeller 1.5 HP XP (Part Not Available Use Following Part #) | 71699 |
| 4C | Impeller 2.0HP 1SP (Watkins Recommends Replacing Entire Jet Pump) | ** |
| 5 | Wear Ring XP | 71409** |
| 6 | O-Ring Volute XP | 71410** |
| 7 | Screw 8-32 X 5/8 (XP Volute) | 71413 |
| 8 | Drain Fitting W/O-Ring | 32267 |
| 9 | O-Ring Drain Nipple XP | N/A |
| 10 | Kit Base Grommet (Quantity 4) | 72349 |
| 11 | Washer FLT 5/16 x 3/4 SS | 30413 |
| 12 | Screw 1/4-20 x 1-1/4 PH PLP PLTMS | 30018 |
| 13A | Manifold XP Emerson | N/A |
| 13B | Manifold XP Magnetek | N/A |
| * | Cord 14/3 XP Pump | 71416 |
| * | Jet Pump 1.65 HP XP | 71699 |
| * | Jet Pump 1.5 HP XP (Part Not Available Replace Entire Jet Pump Use Part #) | 71699 |
| * | Jet Pump 2.0 HP 1SP | 72194 |
| * | Jet Pump 2.0 HP 2SP | 72197 |
| * | Jet Pump 2.5 HP 1SP | 72196 |
| * | Jet Pump 2.5 HP 2 SP | 73023 |