*All Sales Are Final
The Wavemaster 9200 2.5 HP 230V / 60 hz is a replacement jet pump for hot tub spas. It has a 48" frame, a 2" intake, a 2" discharge w/cord. Genuine Hot Spring Spas part.
Vendor code is right above the address of the Watkins Corp address on item, and will tell you which wet end kit to get for your pump.
73023 Wavemaster 2.5 HP 2 Speed is for the following models:
| | | |
| --- | --- | --- |
| Make | Model | Date Range |
| Hot Spring | Grandee | 2005-Current |
| Hot Spring | Grandee NXT | 2014-Current |
| Hot Spring | Sovereign | 2014-Current |
| Hot Spring | Accolade | 2005-2006 |
| Tiger River | Bengal Model MM | 2005-2010 |
| Hot Spot | Tempo | 2013-2015 |
| Hot Spot | La Palma | 2008-2009 |
| Caldera | Tahitian | 2002-Current |
| Caldera | Niagara | 2002-Current |
| Caldera | Geneva | 2002-Current |
| Caldera | Cantabria | 2009-Current |
| Caldera | Palatino | 2013-2015 |
| Caldera | C 30 | 2006-2009 |
| Caldera | C 45 | 2006-2009 |
| Limelight | Pulse | 2008-Current |
| Limelight | Gleam | 2013-Current |
| Endless Pools | X200-50 | 2016-Current |
| Endless Pools | X500-50 | 2016-Current |
Specifications
| | | |
| --- | --- | --- |
| Item | Decsription | Part # |
| 1A | Motor 1.65 HP X (Discontinued) | 71399** |
| 1B | Motor 1.5 HP XP (Part Not Available Use Following Part #) | 71699 |
| 1C | Motor 2.0HP 1SP (Watkins Recommends Replacing entire Jet Pump) | ** |
| 1D | Motor 2.0HP 2SP (Watkins Recommends Replacing entire Jet Pump) | ** |
| 1E | Motor 2.5 HP 1SP | 71402** |
| 1F | Motor 2.5 HP 1SP (Watkins Recommends Replacing entire Jet Pump) | ** |
| 2A | Wet End Kit 1.65 HP | 72994** |
| 2B | Wet End Kit 1.5 HP | 72993** |
| 2C | Wet End Kit 2.0 HP 1SP | 72995** |
| 2D | Wet End Kit 2.0 HP 2SP | 72995** |
| 2E | Wet End Kit 2.5 HP 1 SP | 72996** |
| 2F | Wet End Kit 2.5 HP 2 SP | 72996** |
| 3 | Kit Shaft Seal Assy | 71447** |
| 4A | Impeller 1.65 HP XP | 71403** |
| 4B | Impeller 1.5 HP XP (Part Not Available Use Following Part #) | 71699 |
| 4C | Impeller 2.0HP 1SP (Watkins Recommends Replacing Entire Jet Pump) | ** |
| 5 | Wear Ring XP | 71409** |
| 6 | O-Ring Volute XP | 71410** |
| 7 | Screw 8-32 X 5/8 (XP Volute) | 71413 |
| 8 | Drain Fitting W/O-Ring | 32267 |
| 9 | O-Ring Drain Nipple XP | N/A |
| 10 | Kit Base Grommet (Quantity 4) | 72349 |
| 11 | Washer FLT 5/16 x 3/4 SS | 30413 |
| 12 | Screw 1/4-20 x 1-1/4 PH PLP PLTMS | 30018 |
| 13A | Manifold XP Emerson | N/A |
| 13B | Manifold XP Magnetek | N/A |
| * | Cord 14/3 XP Pump | 71416 |
| * | Jet Pump 1.65 HP XP | 71699 |
| * | Jet Pump 1.5 HP XP (Part Not Available Replace Entire Jet Pump Use Part #) | 71699 |
| * | Jet Pump 2.0 HP 1SP | 72194 |
| * | Jet Pump 2.0 HP 2SP | 72197 |
| * | Jet Pump 2.5 HP 1SP | 72196 |
| * | Jet Pump 2.5 HP 2 SP | 73023 |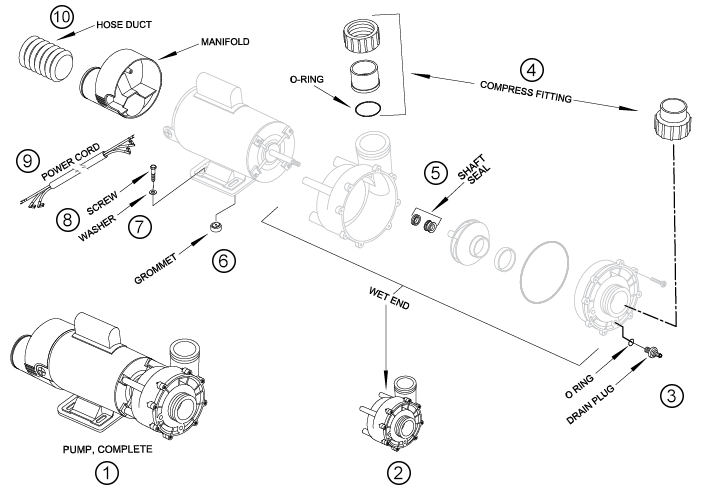 | | | |
| --- | --- | --- |
| Item | Description | Part # |
| 1 | JET PUMP, 2.5HP 2SP 230V 60HZ | 73023 |
| 2A | WET END 2.5 HP 60HZ ST D | 72996 |
| 2B | WET END 2.5 HP 60 HZ, L-03 | 77713 |
| 3 | DRAIN FITTING, JET PUMP 1/4IN | 32267 |
| 4A | UNION, PUMP | 1119401 |
| 4B | 2" SOC.90 DEG SWEEP PUMP UNION | 301488 |
| 4C | 429-020 CPLG 2IN SLXSL | 30665 |
| 4D | O-RING, COMPRESSION FITTING | 34447 |
| 4E | HOSE, PVC FLEX 2" X 36" | 70308 |
| 4F | ITTING COMPRESS 2 W/O-RING | 71036 |
| 4G | FITTING COMPRESS 2X1.5 W/ORING | 71037 |
| 4H | FITTING COMPRE 1.5W/O-RNG | 71038 |
| 4I | SPLIT NUT, 2" JET PUMP | 72072 |
| 5A | SHAFT SEAL ASSEMBLY | 71447 |
| 5B | SEAL, SHAFT LX JET PUMP #3536 | 77363 |
| 6 | GROMMET, JET PUMP BASE 97-C | 72349 |
| 7 | WASHER FLT 5/16X3/4 SS | 30413 |
| 8 | SCW 1/4-20X1-1/2 MS PH PLP SS | 30018 |
| 9 | KIT, PUMP CORD 14/3 1SPD STRS | 72462 |
| 10 | EXHAUST HOSE, JET PUMP 01-C | 72344 |