Each spa is equipped with a thermistor that is used as temperature sensor. The thermistor is a semiconductor that changes resistance with temperature changes (as the temperature goes up, the resistance goes down). A comparitor circuit then compares the voltage to the set point voltage. If the voltage differs the heating circuit is sent a signal to energize the heater system or teminate the system if voltage is equal to the set point. The set point is the spas default temperature (102°F) unless reset at the control panel's up or down temperature set buttons.
NOTE: BYPASSING A THERMISTOR OR SHORTING THE TERMINALS WILL CAUSE THE SPA HEATER TO SHUT DOWN. NEVER ATTEMPT TO BYPASS OR ELIMINATE A THERMISTOR FROM THE CIRCUIT. TO CHECK THE THERMISTOR COMPARE THE RESISTANCE TO THE THERMISTOR CHART. THE WATER TEMPERATURE AND THERMISTOR SHOULD BE THE SAME.
Cold Weather Start-ups.
In below-freezing climates, technicians and delivery personnel occasionally run into symptoms of electronic high limit tripping when trying to start up a new spa (or a spa that has been stored empty). In the high limit tripped condition, only the circulation pump will operate (the heater, lamp, and jet pump will not operate).
High limit tripping at start up is most common in spas that have been stored outside or in unheated areas. This is because thermistors installed in empty spas are sensitive to very cold weather (in filled spas the warm water keeps the thermistor in its normal operating range). If the temperature of the high limit thermistor is near or below 45 degrees F, its resistance increases significantly. The very high resistance of the cold thermistor is outside of the normal operating range, so the high limit circuit shuts down the spa. A second set of thermistors kept in a warm Envioronment Can be switched out prior to powering up the spa. This will keep the system running until the original thermistor warm up.
HIGH LIMIT SENSOR – Removal:
1. Disconnect power to the spa.
2. Remove the front access panel.
3. Open the control box lid.
4. Unplug the high limit sensor from the control box high limit terminal and remove it from the control box.
5. Trim any zip ties that hold the cords in place.
6. Remove the hi-limit sensor from the clip on the heater.
Installation:
Reverse the removal procedure to install the control sensor in the equipment compartment taking special care to apply insulation to the backside of the control sensor. Failure to replace the insulation around the high limit and heater will result in the possibilities of the spa shutting down during the winter months.
Note: After installation, switch the jet pump to high speed and check spa functions.
72492 High Limit Sensor 2002-Current is for the following models:
| | | |
| --- | --- | --- |
| Make | Model | Date Range |
| Caldera | Tahitian | 2002-Current |
| Caldera | Niagara | 2002-Current |
| Caldera | Geneva | 2002-Current |
| Caldera | Cantabria | 2009-Current |
| Caldera | Hawaiian | 2002-2010 |
| Caldera | Kauai | 2013-2015 |
| Caldera | Moorea | 2006-2010 |
| Caldera | Salina | 2011-2015 |
| Caldera | Makena | 2013-2015 |
| Caldera | Martinique | 2013-2015 |
| Caldera | Aspire | 2004-2008 |
| Caldera | Elation | 2003-2010 |
Specifications
| | | |
| --- | --- | --- |
| Item | Description | Part # |
| 1 | Kit CBA Advent Orca Cal | 76288 |
| 2 | Kit Control Head Cal | 76269 |
| 3 | Clamp Romex 3/4" | 30105 |
| 4 | Plug Hole 0.875" | 36043 |
| 5 | Bushing Strain Releif 3/8" | 30099 |
| 6a | Kit Pump Cord 14/4 2SPD STRS | 72461 |
| 6b | Kit Pump Cord 14/3 1SPD STRS | 72462 |
| 7 | Strain Releif 3/8" 7k-2 | 30098 |
| 8 | Cord Circ Pump | 71434 |
| 9 | Ozone Receptacle | 72474 |
| 10 | Thermistor Hi-Limit | 72492 |
| 11 | Thermistor Control | 72493 |
| 12 | Kit Heater Board Replacement | 76071 |
| 13 | Fuseholder | 34506 |
| 14 | Fuse 2 AMP 250V | 34934 |
| 15 | Program Jumper Shunt .100 | 36021 |
| 16 | Kit 12C Comm Hub 8 Port | 74150 |
| 17 | Power Jumper 2 Pin | 39192 |
| 18 | Power Jumper 3 Pin | 39193 |
| | | |
| --- | --- | --- |
| Item | Decsription | Part # |
| 1 | Kit CBA Advent Cal | 73181 |
| 2 | Clamp Romex 3/4 | 30105 |
| 3 | Plug Hole 0.3/8" | 36043 |
| 4 | Bushing Strain Relief 3/8" | 30099 |
| 5a | Cord Assy Pump 14/4 Flag 60" | 72461 |
| 5b | Cord Assy Pump 14/3 Flag 60" | 72462 |
| 6 | Strain Releif 3/8" 7K-2 | 30098 |
| 7 | Cord Circ Pump Replacement | 71434 |
| 8 | Receptacle Assy Ozone | 72474 |
| 9 | Plug Hole 0.50" | 36044 |
| 10 | Thermostor Hi-Limit | 72492 |
| 11 | Thermistor Control | 72493 |
| * | Kit Heater Board Replacemnet | 74618 |
| * | Fuse Sloblo 1/2A 250V 5MM X 20MM | 37089 |
| * | Program Jumper Sgunt .100 | 36021 |
| * | Kit Cable Assy Press Switch | 72639 |
| * | Fuseholder | 34506 |
| * | Fuse 2 Amp 250V | 34934 |
| * | Kit 12C Comm Hub 8 Port | 74150 |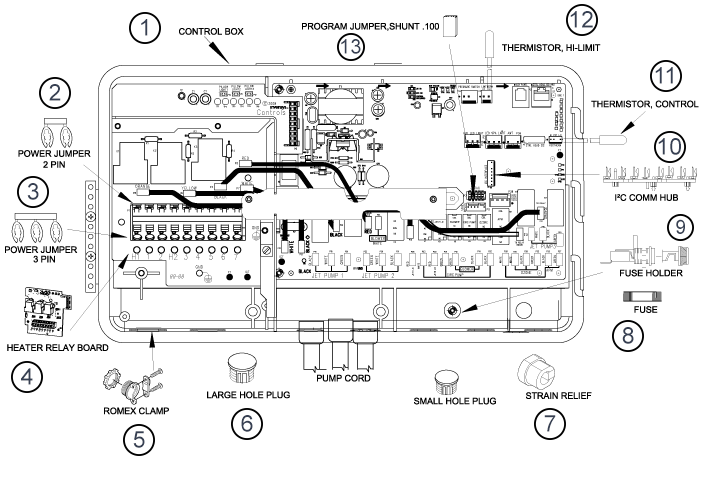 Item
 Description
 Part #
 1
 CONTROL BOARD,ADVENT ORCA 60HZ
 77656
 2
 JUMPER, POWER 2-PIN T-BLOCK
 39192
 3
 JUMPER, POWER 3-PIN T-BLOCK
 39193
 4
 HEATER RELAY BOARD, ORCA 50/60
 77118
 5
 STRAIN RELIEF, METAL CLAMP
 30105
 6
 PLUG, 0.875" HOLE
 36043
 7

 STRAIN RELIEF, SMALL CIRC PUMP

STRAIN RELIEF, MEDIUM JET PUMP

30098

30099 

 8
 FUSE, 2A 250V SLO BLO
 34934
 9
 FUSE HOLDER, CONTROL BOX 60HZ
 34506
 10
 I2C COMM, 5-PORT
 74150
 11
 THERMISTOR, CONTROL BULLET
 72493
 12
 THERMISTOR, HI LIMIT ADVENT
 72492
 13
 JUMPER, PROGRAM 2-PIN
 36021