Wall Fitting, Rear
This part is a replacement wall fitting rear for select Hot Spring hot tub models.The wall fitting can be used in the filter compartment.
Compatible with 1989 to current Hot Spring Highlife, Hot Spot, Solana and Tiger River spa models.
*Check specs section for full list of compatible models and years.
Specifications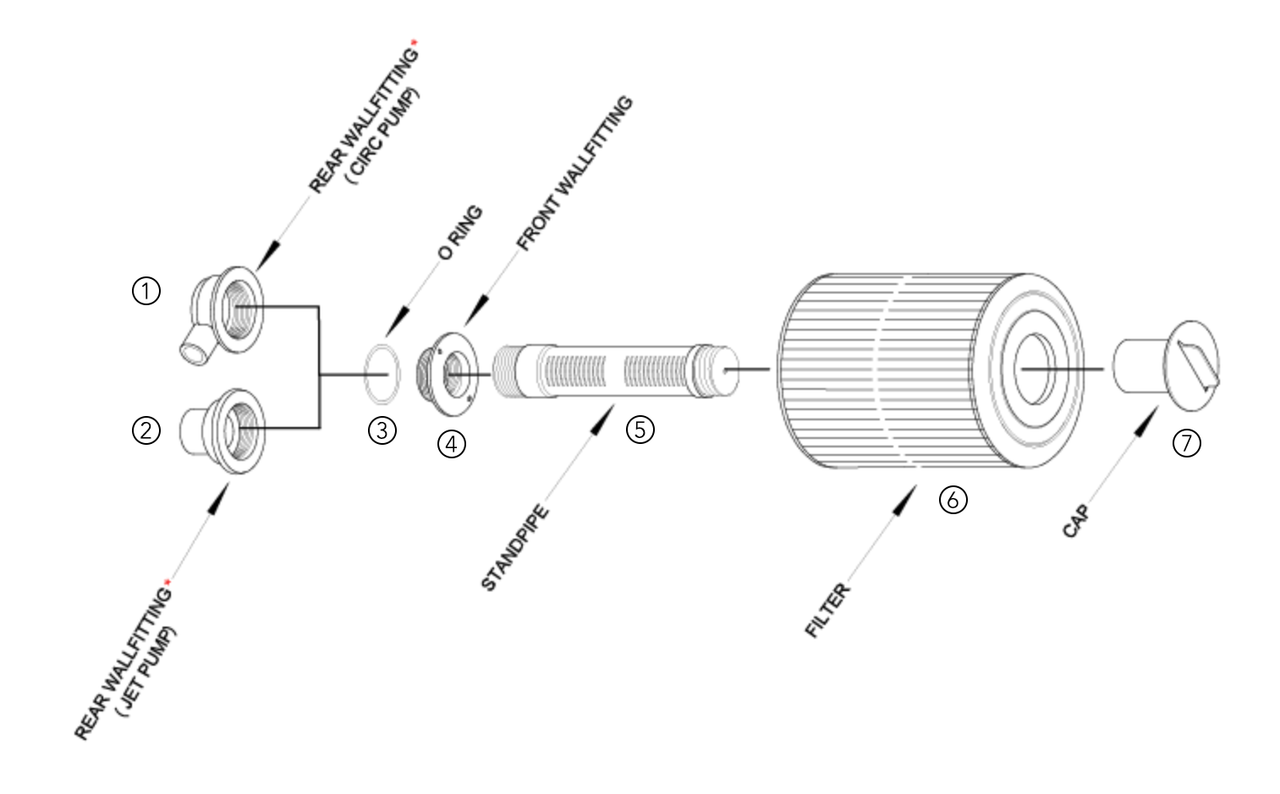 | | | |
| --- | --- | --- |
| Item | Description | Part # |
| 1 | Drain Wallfitting 3/4 Inch | 35911 |
| 2 | Wallfitting, Rear: Wallfitting #1 Rear | 30490 |
| 3 | O-ring: 0-ring 2.350inx.190in 30 Sil | 30482 |
| 4a | Wallfitting #1 Front | 30488 |
| 4b | Wallfitting, Grey W/O Knockout | 71263 |
| 5a | Standpipe Filter 9-3/4In | 31390 |
| 5b | Standpipe, W/Restrictor | 76504 |
| 6 | Filter, 65Sf Tri-X 9/Cs | 73250 |
| 7a | Standpipe,Cap 3-1/2,Hss,White | 31389 |
| 7b | Standpipe,Cap 3-1/2,Tr,Grey | 36513 |
| | | |
| --- | --- | --- |
| Item | Description | Part # |
| 1 | Wallfitting Front | 30488 |
| 2 | O-Ring Silicone | 30482 |
| 3 | Wallfitting Rear | 30490 |
| 4 | Wallfitting Rear Drain - 1/2" | 71128 |
| 5 | Wallfitting Rear Drain - 3/4" | 35911 |
| 6A | Coupler 3/4 | 30661 |
| 6B | Clear Vinyl Tubing 1/2 | 70313 |
| 7 | Flex Tubing 3/4" | 70312 |
| 8 | Adapter | 30702 |
| 9 | Drain Valve | 30592 |
| 10 | Drain Cap | 30700 |
| 11A | Heater Return Screen White | 72722 |
| 11B | Heater Return Screen Taupe | 71886 |
| 11C | Heater Return Screen Cool Gray | 72723 |
| 11D | Heater Return Screen Warm Gray | 73296 |
| 12 | Reducer Bushing 1-1/2" x 3/4" | 31420 |
| 13 | Elbow Street 1-1/2" x 3/4" | 30650 |
| 14 | Reducer Bushing 3/4"x 1/2" | 30675 |
| 15 | Flex Tubing 1/2" | 70313 |
| 16 | Barbed Adapter 1/2" | 31218 |
| 17 | Sprin Clamp | 31228 |
| | | |
| --- | --- | --- |
| Item | Description | Part # |
| 1 | Cap Standpipe 3-/12" (grey) | 36513 |
| 2 | Filter Cartridge 30 sq feet | 71825 |
| 3 | Standpipe* | 76504 |
| 4 | Wallfitting #1 Front | 30488 |
| 5 | O-Ring red Wallfitting Front | 30482 |
| 6 | Kit Rear Wallfitting | 30490 |
| ** | Weir Ring Gray SX/RX Only | 71644 |