Red Front O-Ring
A red front o-ring that is used to compress wall fittings in your Hot Spring hot tub. The o-ring is made out of silicone for durability.
Seal your equipment to prevent water leaks in your spa. Compatible with a variety of the 1990 to current Hot Spring Highlife, Hot Spot, Solana, Limelight and Tiger River spa models.
*Check specs section for full list of compatible models and years.
Specifications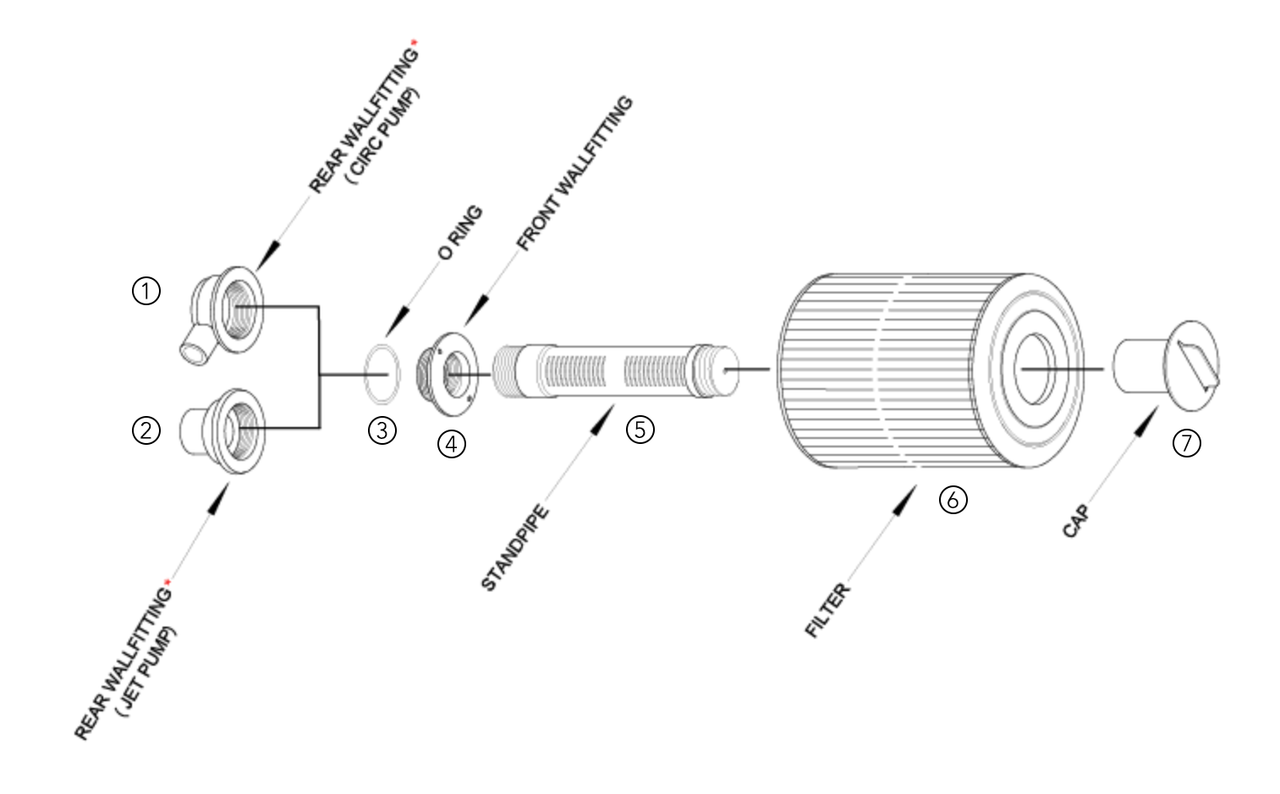 | | | |
| --- | --- | --- |
| Item | Description | Part # |
| 1 | Drain Wallfitting 3/4 Inch | 35911 |
| 2 | Wallfitting, Rear: Wallfitting #1 Rear | 30490 |
| 3 | O-ring: 0-ring 2.350inx.190in 30 Sil | 30482 |
| 4a | Wallfitting #1 Front | 30488 |
| 4b | Wallfitting, Grey W/O Knockout | 71263 |
| 5a | Standpipe Filter 9-3/4In | 31390 |
| 5b | Standpipe, W/Restrictor | 76504 |
| 6 | Filter, 65Sf Tri-X 9/Cs | 73250 |
| 7a | Standpipe,Cap 3-1/2,Hss,White | 31389 |
| 7b | Standpipe,Cap 3-1/2,Tr,Grey | 36513 |
| | | |
| --- | --- | --- |
| Item | Description | Part # |
| 1 | Wallfitting Front | 30488 |
| 2 | O-Ring Silicone | 30482 |
| 3 | Wallfitting Rear | 30490 |
| 4 | Wallfitting Rear Drain - 1/2" | 71128 |
| 5 | Wallfitting Rear Drain - 3/4" | 35911 |
| 6A | Coupler 3/4 | 30661 |
| 6B | Clear Vinyl Tubing 1/2 | 70313 |
| 7 | Flex Tubing 3/4" | 70312 |
| 8 | Adapter | 30702 |
| 9 | Drain Valve | 30592 |
| 10 | Drain Cap | 30700 |
| 11A | Heater Return Screen White | 72722 |
| 11B | Heater Return Screen Taupe | 71886 |
| 11C | Heater Return Screen Cool Gray | 72723 |
| 11D | Heater Return Screen Warm Gray | 73296 |
| 12 | Reducer Bushing 1-1/2" x 3/4" | 31420 |
| 13 | Elbow Street 1-1/2" x 3/4" | 30650 |
| 14 | Reducer Bushing 3/4"x 1/2" | 30675 |
| 15 | Flex Tubing 1/2" | 70313 |
| 16 | Barbed Adapter 1/2" | 31218 |
| 17 | Sprin Clamp | 31228 |
| | | |
| --- | --- | --- |
| Item | Description | Part # |
| 1 | Cap Standpipe 3-/12 (gray) | 36513 |
| 2 | Filter Cartridge 65 Sq Feet | 71827 |
| 3 | Standpipe (gray) | 71948** |
| 4 | O-Ring red Wallfitting Front | 30482 |
| 5 | Kit Rear Wallfitiing | 71452 |
| * | Kit Floating Weir | 71944 |
| | | |
| --- | --- | --- |
| Item | Description | Part # |
| 1 | Stand Pipe Cap | 36513 |
| 2 | Standpipe Assembly | 74818 |
| 3 | Front Wallfitiing | 30488 |
| 4 | O Ring | 30482 |
| 5 | Rear Wallfitiing | 71452 |
| 6 | Fitler Cartridge 100 Sq Ft | 74817 |
| * | Floating Weir | 71644 |
| | | |
| --- | --- | --- |
| Item | Decripstion | Part # |
| 1A | Cover Butterfly '94 | 34351 |
| 1B | Jet Cover WMC '96 Grey | 36222 |
| 2 | Seat Ring | 32872 |
| 3A | Nozzle Standard Jet | 10428 |
| 3B | Jet Eyeball WMC Grey | 36201 |
| 4 | Wallfitting Front | 32420 |
| 5 | O-Ring | 30482 |
| 6 | Jet Tee Fixed W/O | 71125 |
| 7 | Oriface | 32871 |
| 8 | Jet Elbow | 32423 |
| | | |
| --- | --- | --- |
| Item | Description | Part # |
| 1a | Suction Cap Taupe | ** |
| 1b | Suction Cap Gray | ** |
| 1c | Suction Cap Warm Gray | ** |
| 2 | Wallfitting Front | *** |
| 3 | O-Ring | 30482 |
| 4 | Wallfitting Rear | *** |
| 5 | Bushing 1-1/2 x 1/2" | 30679 |
| * | Screen Suction Fitting | 35463 |
 * Non Illistrated Part
** Part No Longer Available
*** Parts No Longer Available Use Retrofit Kit (P/N 74958)
| | | |
| --- | --- | --- |
| Item | Description | Part # |
| 1 | Cap Standpipe 3-/12" (grey) | 36513 |
| 2 | Filter Cartridge 30 sq feet | 71825 |
| 3 | Standpipe* | 76504 |
| 4 | Wallfitting #1 Front | 30488 |
| 5 | O-Ring red Wallfitting Front | 30482 |
| 6 | Kit Rear Wallfitting | 30490 |
| ** | Weir Ring Gray SX/RX Only | 71644 |