IQ Strain Relief
This part is a replacement clamp for select Hot Spring hot tubs. Secures the heater's power cord to the IQ control box.
This is part of the IQ control box assembly. Compatible with a variety of 1993 to current Hot Spring Highlife, Hot Spot, Limelight, and Tiger River spa models.
*Check specs section for full list of compatible models and years.
Specifications
| | | |
| --- | --- | --- |
| Item | Decsription | Part # |
| 1 | Main Control Board | 77089 |
| 2 | Clamp Romex 3/4 | 30105 |
| 3 | Plug Hole 0.3/8" | 36043 |
| 4 | Bushing Strain Relief 3/8" | 30099 |
| 5a | Cord Assy Pump 14/4 Flag 60" | 72461 |
| 5b | Cord Assy Pump 14/3 Flag 60" | 72462 |
| 6 | Strain Releif 3/8" 7K-2 | 30098 |
| 7 | Cord Circ Pump Replacement | 71434 |
| 8 | Receptacle Assy Ozone | 72474 |
| 9 | Plug Hole 0.50" | 36044 |
| 10 | Thermostor Hi-Limit | 72492 |
| 11 | Thermistor Control | 72493 |
| * | Kit Heater Board Replacemnet | 74618 |
| * | Fuse Sloblo 1/2A 250V 5MM X 20MM | 37089 |
| * | Program Jumper Sgunt .100 | 36021 |
| * | Kit Cable Assy Press Switch | 72639 |
| * | Fuseholder | 34506 |
| * | Fuse 2 Amp 250V | 34934 |
| * | Kit 12C Comm Hub 8 Port | 74150 |
| | | |
| --- | --- | --- |
| Item | Description | Part # |
| 1A | Control Head Replacement | 71260 |
| 1B | Control Head G & S | ** |
| 1C | Control Head F & I | ** |
| 1D | Control Head H & J | ** |
| 1E | Control Head Replacement | 71920 |
| 2A | IQ-2000 Control Box | 71382 |
| 2B | IQ-2000 Control Box | 71485 |
| 2C | IQ-2000 Control Box (canadian) | 71384 |
| 2D | IQ-2000 Control Box (canadian) | 71487 |
| 3 | Strain Relief 10/3 | 36022 |
| 4 | Clamp Romex 3/4 | 30105 |
| 5 | Cord Assy GFCI | 20120 |
| 6 | Cord 14/3 XP Jet Pump | 71416 |
| 7 | Bushing Strain Releif 3/8" | 30098 |
| 8 | Plug Hole 0.875" | 36043 |
| 9 | Cord Circ Pump Replacement '97 | 71434 |
| 10 | Receptacle Assy Ozone | 72724 |
| 11 | Kit HSS Lampholder '95-'00 | 71292 |
| 12 | Plug Hole 0.50" | 36044 |
| 13A | Cable Assy Panel Interface | 34931 |
| 13B | Cable Assy Panel Interface | 71755 |
| 14 | Power Jumper Terminal Block | 71377 |
| 15 | Screw Terminal Block | 71529 |
| 16 | Relay 2 Pole 18VCD | 74723 |
| * | Screw IQ 2000 Cover | 36676 |
| * | Screw Mounting Bracket | 36898 |
| * | CBA Mounting Bracket | 36018 |
| * | CBA Mounting Bracket (Classic) | 36019 |
| * | Fuseholder (Canada Only) | 34506 |
| * | Fuse 2 Amp 250V (Canada Only) | 34934 |
| * | Screw Receptacle for Control Panel | 34481 |
| | | |
| --- | --- | --- |
| Item | Description | Part # |
| 1 | Kit CBA IQ2020 HSS | Use 78039 |
| 2 | Kit Control Head HSS '09 | Use 76844 |
| 3 | Clamp Romex 3/4 | 30105 |
| 4 | Plug Hole 0.875 | 36043 |
| 5 | Bushing Strain Relief 3/8" | 30099 |
| 6 | Strain Releif 3/8" 7k-2 | 30098 |
| 7 | Plug Hole 0.50" | 36044 |
| 8 | Thermostor Hi-Limit | 39204 |
| 9 | Thedrmostor Control | 39205 |
| 10 | Kit Heater Board Replacement | 76071 |
| 11 | Fuseholder | 34506 |
| 12 | Fuse 2 AMP 250V | 34934 |
| 13 | Program Jumper Shunt .100 | 36021 |
| 14 | Kit 12C Comm HUB 8 Port | 74150 |
| 15 | Power Jumper 2 Pin | 39192 |
| 16 | Power Jumper 3 Pin | 39193 |
| | | |
| --- | --- | --- |
| Item | Description | Part # |
| 1 | Kit CBA IQ2020 HSS | Use 76836 |
| 2 | Kit Control Head HSS '09 | Use 76844 |
| 3 | Clamp Romex 3/4 | 30105 |
| 4 | Plug Hole 0.875 | 36043 |
| 5 | Bushing Strain Relief 3/8" | 30099 |
| 6 | Strain Releif 3/8" 7k-2 | 30098 |
| 7 | Plug Hole 0.50" | 36044 |
| 8 | Thermostor Hi-Limit | 39204 |
| 9 | Thedrmostor Control | 39205 |
| 10 | Kit Heater Board Replacement | 76071 |
| 11 | Fuseholder | 34506 |
| 12 | Fuse 2 AMP 250V | 34934 |
| 13 | Program Jumper Shunt .100 | 36021 |
| 14 | Kit 12C Comm HUB 8 Port | 74150 |
| 15 | Power Jumper 2 Pin | 39192 |
| 16 | Power Jumper 3 Pin | 39193 |
| | | |
| --- | --- | --- |
| Item | Description | Part # |
| 1 | Kit CBA 1Q2020 HSS | 78039 |
| 2 | Kit Control Head LL | 76845 |
| 3 | Clamp Romex 3/4 | 30105 |
| 4 | Plug Hole 0.875" | 36043 |
| 5 | Bushing Strain Releif 3/8" | 30099 |
| 6 | Strain Releif 3/8" 7k-2 | 30098 |
| 7 | Plug Hole 0.50" | 36044 |
| 8 | Thermistor Hi-Limit | 39204 |
| 9 | Thermistor Control | 39205 |
| 10 | Kit Heater Board Replacement | 77118 |
| 11 | Fuseholder | 34506 |
| 12 | Fuse 2 Amp 250v | 34934 |
| 13 | Program Jumper Shunt .100 | 36021 |
| 14 | Kit 12C Comm Hum 8 Port | 74150 |
| 15 | Power Jumper 2 Pin | 39192 |
| 16 | Power Jumper 3 Pin | 39193 |
| | | |
| --- | --- | --- |
| Item | Description | Part # |
| 1 | Kit CBA Advent Orca Cal | 76288 |
| 2 | Kit Control Head Cal | 76269 |
| 3 | Clamp Romex 3/4" | 30105 |
| 4 | Plug Hole 0.875" | 36043 |
| 5 | Bushing Strain Releif 3/8" | 30099 |
| 6a | Kit Pump Cord 14/4 2SPD STRS | 72461 |
| 6b | Kit Pump Cord 14/3 1SPD STRS | 72462 |
| 7 | Strain Releif 3/8" 7k-2 | 30098 |
| 8 | Cord Circ Pump | 71434 |
| 9 | Ozone Receptacle | 72474 |
| 10 | Thermistor Hi-Limit | 72492 |
| 11 | Thermistor Control | 72493 |
| 12 | Kit Heater Board Replacement | 76071 |
| 13 | Fuseholder | 34506 |
| 14 | Fuse 2 AMP 250V | 34934 |
| 15 | Program Jumper Shunt .100 | 36021 |
| 16 | Kit 12C Comm Hub 8 Port | 74150 |
| 17 | Power Jumper 2 Pin | 39192 |
| 18 | Power Jumper 3 Pin | 39193 |
| | | |
| --- | --- | --- |
| Item | Description | Part # |
| 1 | Control Box, Complete | 37335 |
| 2 | Thermostat High Limit | 34806 |
| 3 | Screw 6-32x5/16 PLP FS SS | 37754 |
| 4 | Harness Assy LED | 34935 |
| 5 | Spacer LED Control Panel | 34316 |
| 6 | Lens Power LED | 34296 |
| 7 | Kit Electronic T-Stat | 75089 |
| 8 | Universal Bushing 0.875 | 37753 |
| 9 | Knob Hot Spot | 36546 |
| 10 | Spring Knob 1700 Hot Spot | 36550 |
| 11 | Kepnut 6-32 SS | 33355 |
| 12 | Spacer 1/2" for #6 screw | 36549 |
| 13 | Screw MS #6 PH PLP SS | 36547 |
| 14 | Screw #6-32/4 PH PLP SS MS | 36548 |
| 15 | Kit Minibreaker Hot Spot | 75076 |
| 16 | Swith GFCI 20 Amp 115 Volt | 31027 |
| 17 | Cord Power 17' -Z | 33112 |
| 18 | Romex Clamp 3/4" | 30105 |
| 19 | XFMR 120 Vac /12 Vac 60 Hz | 34920 |
| 20 | Switch Air/Light SPDT - Z | 33229 |
| 21 | Switch Air/Jet Momentary | 34932 |
| 22 | Kit PWA Main Hot Spot '98 | 71974* |
| 23 | Relay DP/ST 12VDC | 34321 |
| 24 | Terminal Block Hot Spot '98 | 37723 |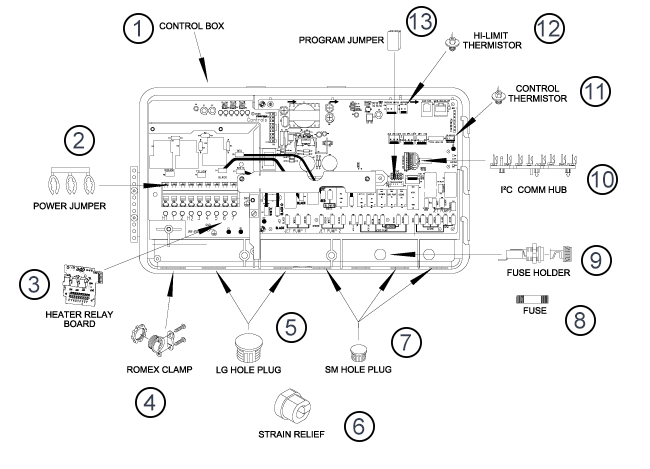 | | | |
| --- | --- | --- |
|  Item |  Description |  Part # |
|  1 |  MAIN BOARD |  76998 |
|  2 |  JUMPER, POWER 2-PIN T-BLOCK, JUMPER, POWER 3-PIN T-BLOCK |  39192 & 39193 |
|  3 |  HEATER RELAY BOARD |  77118 |
|  4 |  STRAIN RELIEF, METAL CLAMP |  30105 |
|  5 |  PLUG, 0.875" HOLE |  36043 |
|  6a |  STRAIN RELIEF, SMALL CIRC PUMP |  30098 |
|  6b |  STRAIN RELIEF, MEDIUM JET PUMP |  30099 |
|  7 |  PLUG, 0.5" HOLE |  36044 |
|  8 |  FUSE, 2A 250V SLO BLO |  34934 |
|  9 |  FUSE HOLDER, CONTROL BOX 60HZ |  34506 |
|  10 |  I2C COMM, 5-PORT |  74150 |
|  11 |  THERMISTOR ASSY CONTROL EBIC |  39205 |
|  12 |  THERMISTOR ASSY HI-LIMIT EBIC |  39204 |
|  13 |  JUMPER, PROGRAM 2-PIN |  36021 |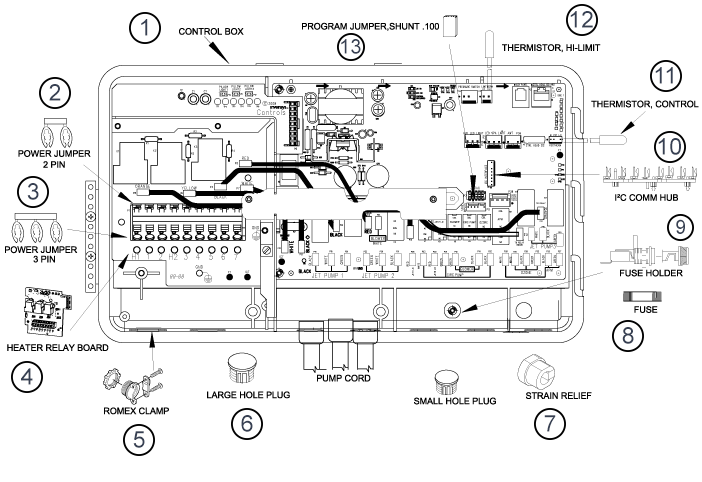 Item
 Description
 Part #
 1
 CONTROL BOARD,ADVENT ORCA 60HZ
 77656
 2
 JUMPER, POWER 2-PIN T-BLOCK
 39192
 3
 JUMPER, POWER 3-PIN T-BLOCK
 39193
 4
 HEATER RELAY BOARD, ORCA 50/60
 77118
 5
 STRAIN RELIEF, METAL CLAMP
 30105
 6
 PLUG, 0.875" HOLE
 36043
 7

 STRAIN RELIEF, SMALL CIRC PUMP

STRAIN RELIEF, MEDIUM JET PUMP

 8
 FUSE, 2A 250V SLO BLO
 34934
 9
 FUSE HOLDER, CONTROL BOX 60HZ
 34506
 10
 I2C COMM, 5-PORT
 74150
 11
 THERMISTOR, CONTROL BULLET
 72493
 12
 THERMISTOR, HI LIMIT ADVENT
 72492
 13
 JUMPER, PROGRAM 2-PIN
 36021