Thermostat Sensor
This part is a replacement thermostat sensor for select Caldera hot tub models. Reach the warm water temperature you are looking for and install this sensor for automatic shut off on the heater.
Hit the target temperature in your spa with this control thermostat. Compatible with 2003 to current Caldera, Hot Spot, and Solana spa models.
*Check specs section for full list of compatible models and years.
Specifications
---
| | | |
| --- | --- | --- |
| Make | Model | Date Range |
| Hot Spot | RLX | 1999-2002 |
| Hot Spot | SLX | 1999-2002 |
| Hot Spot | Relay | 2010-Current |
| Hot Spot | Rhythm | 2010-Current |
| Hot Spot | Tempo | 2010-Current |
| Hot Spot | SX | 2011-Current |
| Hot Spot | TX | 2011-2015 |
| Hot Spot | Mallorca | 2006-2009 |
| Hot Spot | Sorrento | 2006-2009 |
| Hot Spot | La Palma | 2008-2009 |
| Hot Spot | SLXtra | 2001-2002 |
| Hot Spot | Tobago | 2006-2009 |
| Hot Spot | Trinidad | 2006-2009 |
| Hot Spot | RE | 1999-2002 |
| Hot Spot | SE | 1999-2000 |
| Solana | SX | 2006-2010 |
| Solana | TX | 2006-2010 |
| Solana | RX | 2006-2009 |
| Caldera | Tahitian | 2014-Current |
| Caldera | Niagara | 2014-Current |
| Caldera | Geneva | 2014-Current |
| Caldera | Cantabria | 2014-Current |
| Caldera | Hawaiian | 2002-2010 |
| Caldera | Kauai | 2013-2015 |
| Caldera | Moorea | 2006-2010 |
| Caldera | Salina | 2011-2015 |
| Caldera | Makena | 2013-2015 |
| Caldera | Martinique | 2013-2015 |
| Caldera | Aspire | 2004-2008 |
| Caldera | Palatino | 2010-Current |
| Caldera | Marino | 2010-Current |
| Caldera | Vanto | 2011-Current |
| Caldera | Aventine | 2006-2015 |
| Caldera | Elation | 2003-2010 |
| Caldera | Cumberland | 2006-2009 |
| Caldera | Olympia | 2006-2009 |
| Caldera | Tarino | 2013-Current |
| Caldera | C 30 | 2006-2009 |
| Caldera | San Gabriel | 2008-2009 |
| Caldera | Oasis | 2006-2009 |
| Caldera | C 45 | 2006-2009 |
---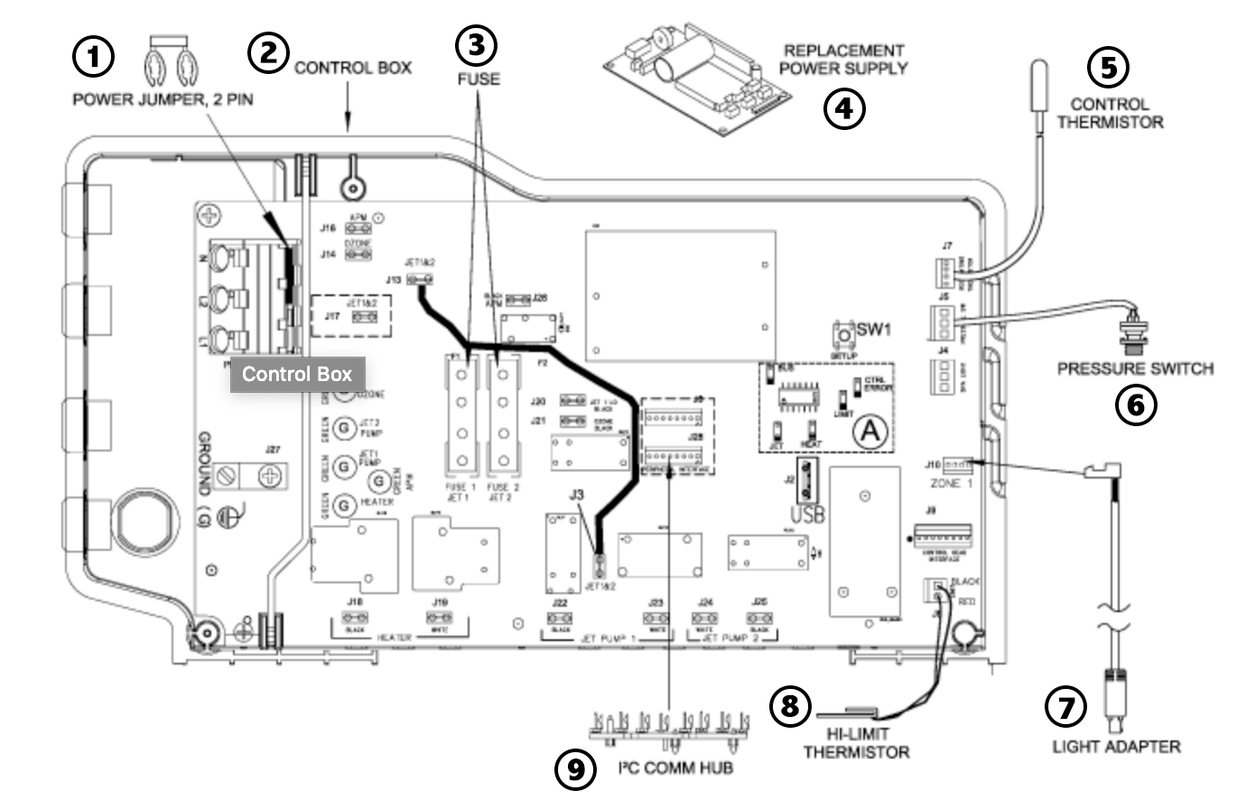 | | | |
| --- | --- | --- |
| Item | Description | Part # |
| 1 | POWER JUMPER,2 PIN,15MM,HAWK | 1306501 |
| 2 | CONTROL BOX, VACANZA HAWK 60hz | 76856 |
| 3 | FUSE, 25A 300V | 71618 |
| 4 | POWER SUPPLY, REPLACEMENT HAWK 12W | 78842 |
| 5 | THERMISTOR, CONTROL BULLET | 72493 |
| 6 | PRESSURE SWITCH, CEDRIC-HAWK | 73995 |
| 7 | LIGHT HARNESS, EAGLE/HAWK BOX | 76860 |
| 8 | THERMISTOR, HI LIMIT HSVZ | 73992 |
| 9 | I2C COMM, 4-PORT | 72742 |
| | | |
| --- | --- | --- |
| Item | Description | Part # |
| 1 | Kit CBA Advent Orca Cal | 76288 |
| 2 | Kit Control Head Cal | 76269 |
| 3 | Clamp Romex 3/4" | 30105 |
| 4 | Plug Hole 0.875" | 36043 |
| 5 | Bushing Strain Releif 3/8" | 30099 |
| 6a | Kit Pump Cord 14/4 2SPD STRS | 72461 |
| 6b | Kit Pump Cord 14/3 1SPD STRS | 72462 |
| 7 | Strain Releif 3/8" 7k-2 | 30098 |
| 8 | Cord Circ Pump | 71434 |
| 9 | Ozone Receptacle | 72474 |
| 10 | Thermistor Hi-Limit | 72492 |
| 11 | Thermistor Control | 72493 |
| 12 | Kit Heater Board Replacement | 77118 |
| 13 | Fuseholder | 34506 |
| 14 | Fuse 2 AMP 250V | 34934 |
| 15 | Program Jumper Shunt .100 | 36021 |
| 16 | Kit 12C Comm Hub 8 Port | 74150 |
| 17 | Power Jumper 2 Pin | 39192 |
| 18 | Power Jumper 3 Pin | 39193 |
| | | |
| --- | --- | --- |
| Item | Decsription | Part # |
| 1 | Kit CBA Advent Cal | 73181 |
| 2 | Clamp Romex 3/4 | 30105 |
| 3 | Plug Hole 0.3/8" | 36043 |
| 4 | Bushing Strain Relief 3/8" | 30099 |
| 5a | Cord Assy Pump 14/4 Flag 60" | 72461 |
| 5b | Cord Assy Pump 14/3 Flag 60" | 72462 |
| 6 | Strain Releif 3/8" 7K-2 | 30098 |
| 7 | Cord Circ Pump Replacement | 71434 |
| 8 | Receptacle Assy Ozone | 72474 |
| 9 | Plug Hole 0.50" | 36044 |
| 10 | Thermostor Hi-Limit | 72492 |
| 11 | Thermistor Control | 72493 |
| * | Kit Heater Board Replacemnet | 74618 |
| * | Fuse Sloblo 1/2A 250V 5MM X 20MM | 37089 |
| * | Program Jumper Sgunt .100 | 36021 |
| * | Kit Cable Assy Press Switch | 72639 |
| * | Fuseholder | 34506 |
| * | Fuse 2 Amp 250V | 34934 |
| * | Kit 12C Comm Hub 8 Port | 74150 |
| | | |
| --- | --- | --- |
| Item | Description | Part # |
| 1 | Control Box | 76840 |
| 2 | Kit Control | 76843 |
| 3 | Fuse 25A/ SC Time Delay | 71618 |
| 4 | Control Thermistor | 72493 |
| 5 | Split Nut Union 2" | 33761 |
| 6 | Heater Assy | 73994 |
| 7 | Pressure Switch | 73995 |
| 8 | Hi-Limit Thermistor | 73992 |
| 9 | Tailpiece Heater | 73905 |
| 10 | O-Ring Tail Piece | 34447 |
| | | |
| --- | --- | --- |
| Item | Description | Part # |
| 1 | Control Box HS Hawk DOM 12 | 76840 |
| 2 | Control Panel HS Hawk CG 12 | 76843 |
| 3 | Fuse 25A/300V SC Time Delay | 71618 |
| 4 | Control Thermistor | 72493 |
| 5 | Pressure Switch | 73995 |
| 6 | Light Adaptor Eagle/Hawk | 76860 |
| 7 | Hi-Limit Thermistor | 73992 |
| 8 | Kit 12C Comm Hub 8 Port | 74150 |
| 9 | Power Jumper 2 Pin | 39192 |
| | | |
| --- | --- | --- |
| Item | Description | Part # |
| 1 | 15 Amp/ 115v GFCI w/Cover | 37870 |
| 2 | Control Box | Use 76840 |
| 3 | Fuse 25A/300V SC Time Delay | 71618 |
| 4 | Control Thermistor | 72493 |
| 5 | Split Nut Union 2" | 33761 |
| 6 | Heater Assy | 73994 |
| 7 | Presssure Switch | 73995 |
| 8 | Hi-Limt Thermistor | 73992 |
| * | Tail Piece Heater | 70905 |
| * | O-Ring Tail Piece | 34447 |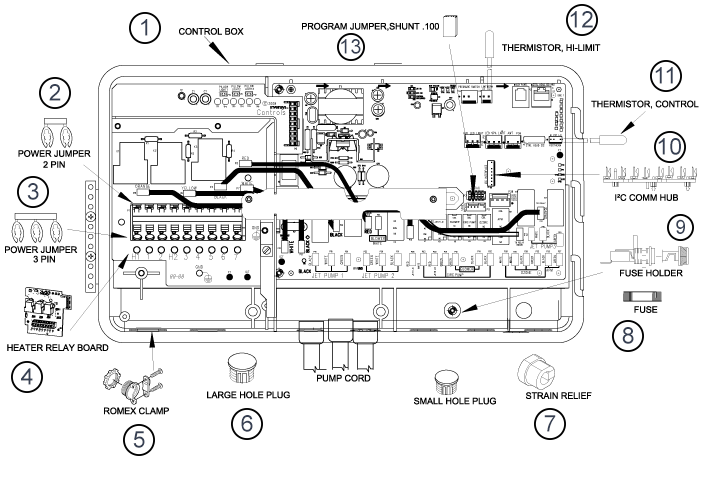 Item
 Description
 Part #
 1
 CONTROL BOARD,ADVENT ORCA 60HZ
 77656
 2
 JUMPER, POWER 2-PIN T-BLOCK
 39192
 3
 JUMPER, POWER 3-PIN T-BLOCK
 39193
 4
 HEATER RELAY BOARD, ORCA 50/60
 77118
 5
 STRAIN RELIEF, METAL CLAMP
 30105
 6
 PLUG, 0.875" HOLE
 36043
 7

 STRAIN RELIEF, SMALL CIRC PUMP

STRAIN RELIEF, MEDIUM JET PUMP

30098

30099 

 8
 FUSE, 2A 250V SLO BLO
 34934
 9
 FUSE HOLDER, CONTROL BOX 60HZ
 34506
 10
 I2C COMM, 5-PORT
 74150
 11
 THERMISTOR, CONTROL BULLET
 72493
 12
 THERMISTOR, HI LIMIT ADVENT
 72492
 13
 JUMPER, PROGRAM 2-PIN
 36021