*All Sales Are Final
Can be used at 110 and 220 volts.
This is the third version of the Wavemaster® 7000, and it's a 1.65 horsepower, single speed jet pump. 
This is a 220 volt jet pump, so please make sure this is compatible with your spa.
71699 Wavemaster 7000 1.65hp is for the following models.       
| | | |
| --- | --- | --- |
| Make | Model | Date Range |
| Hot Spring | Grandee | 1997-2003 |
| Hot Spring | Vanguard | 2005-2013 |
| Hot Spring | Jetsetter | 1997-2016 |
| Hot Spring | Prodigy | 1997-2016 |
| Hot Spring | Sovereign | 1997-2003 |
| Hot Spring | Classic | 1997-2000 |
| Hot Spring | Landmark | 1998-2003 |
| Hot Spring | Bengal | 1997-2010 |
| Hot Spring | Sumatran | 1997-2010 |
Specifications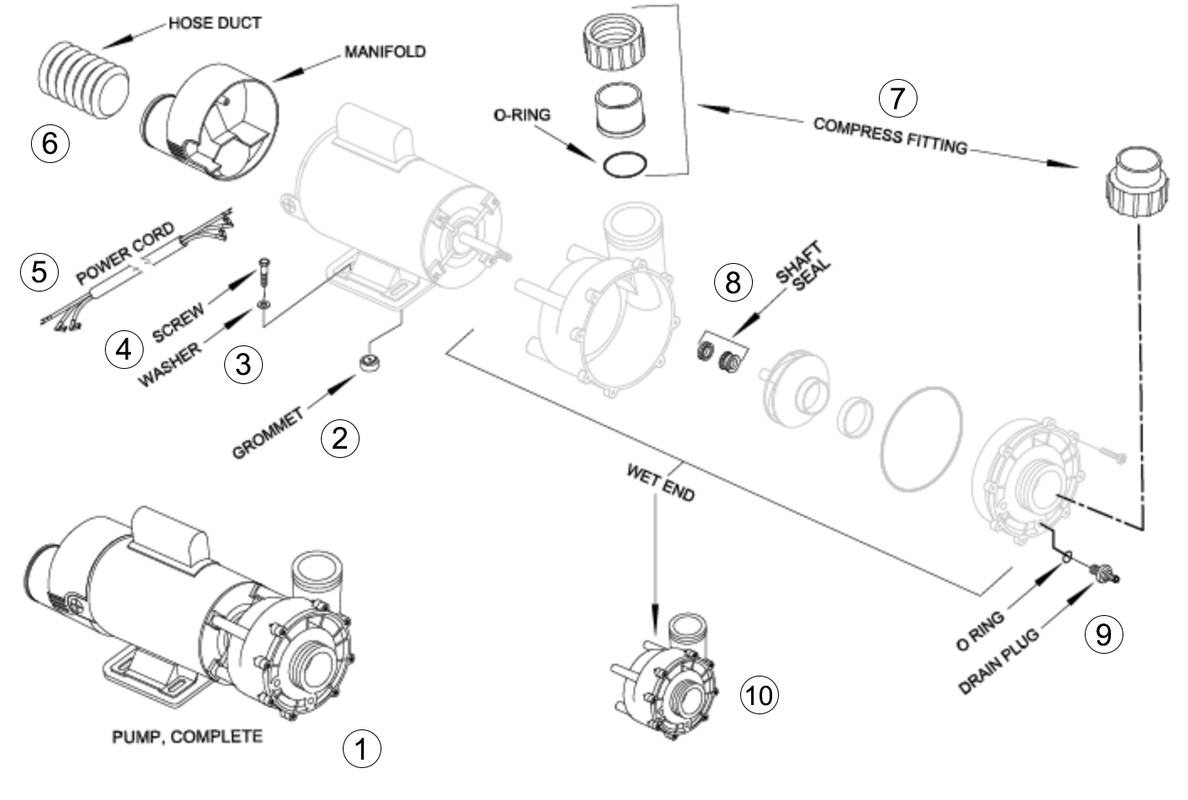 | | | |
| --- | --- | --- |
| Item | Decsription | Part # |
| 1 | JET PUMP, 1.65HP 1SP DUAL 60HZ | 71699 |
| 2 | GROMMET, JET PUMP BASE 97-C | 72349 |
| 3 | WASHER FLT 5/16X3/4 SS | 30413 |
| 4 | SCW 1/4-20X1-1/2 MS PH PLP SS | 30018 |
| 5 | POWER CORD | N/A |
| 6 | EXHAUST HOSE, JET PUMP 01-C | 72344 |
| 7a | UNION, PUMP | 1119401 |
| 7b | 2" SOC.90 DEG SWEEP PUMP UNION | 301488 |
| 7c | 429-020 CPLG 2IN SLXSL | 30665 |
| 7d | O-RING, COMPRESSION FITTING | 34447 |
| 7e | HOSE, PVC FLEX 2" X 36" | 70308 |
| 7f | FITTING COMPRESS 2 W/O-RING | 71036 |
| 7g | FITTING COMPRESS 2X1.5 W/ORING | 71037 |
| 7h | FITTING COMPRE 1.5W/O-RNG | 71038 |
| 7i | SPLIT NUT, 2" JET PUMP | 72072 |
| 8a | SHAFT SEAL ASSEMBLY | 71447 |
| 8b | SEAL, SHAFT LX JET PUMP #3536 | 77363 |
| 9a | ADAPTER 1/2IN HOSE 0675-063 | 33732 |
| 9b | ADAPTER ELL, 1/4-MIPT 1/2-BARB | 39438 |
| 10a | WET END 1.65 HP 60HZ ST D | 72994 |
| 10b | WET END 1.5/1.65 HP 60 HZ L-03 | 77711 |
2 Jet Pump Replaement on a Hot Spring Spa