LED light housing for circuit board in Hot Spring, Tiger River, and Limelight spa models.
Also used in lighting assembly for Endless Pool systems from 2016-current.
The spa light is visible through the light lens located in the bench seat of the spa. Press the light button located on the control panel controls for light intensity and activation.
Specifications: Low voltage dimmable LED light, the light should never need replacing in normal use.
Removal
Disconnect power to the spa.
Access the equipment compartment.
Access the control box assembly.
Unplug the LED spa light cord from the control box assembly (lower left-hand corner).
Locate the LED spa light assembly (on the equipment compartment wall).
Using pliers, remove the three x-mas tree fasteners from the LED light housing.
Remove the entire LED spa light assembly.
To reinstall LED spa light assembly, reverse steps 1 to 7.
Specifications
| | | |
| --- | --- | --- |
| Item | Description | Part # |
| 1A | LED Light Asembly Blue | 72016 |
| 1B | LED Light Assemble Multicolor | 72642 |
| 2 | Housing LED Light | 38859 |
| 3 | Fastener (Quantity 4) | 72017 |
| * | Screw #10 X 1/2 | 30360 |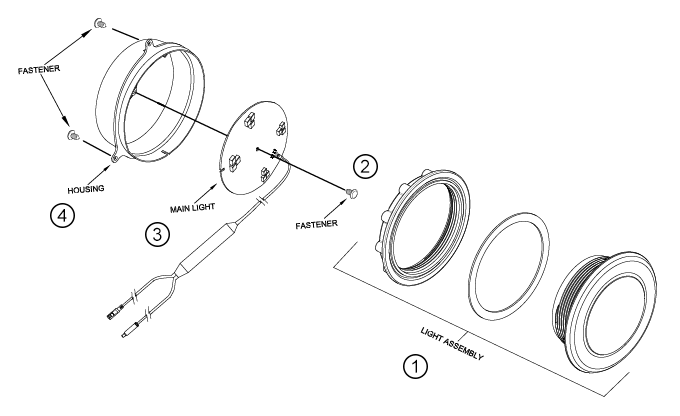 | | | |
| --- | --- | --- |
| Item | Description | Part # |
| 1 | LIGHT, ASSY XL EP | 77922 |
| 2 | KIT, FASTENER (QTY 4) | 72017 |
| 3 | LIGHT, 12 LED MAIN HSS L1-C | 74930 |
| 4 | HOUSING, LED LIGHT | 38859 |